> [Archived] Events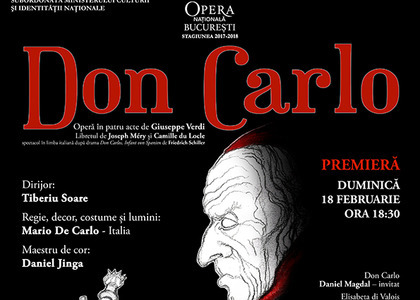 A new premiere on the stage of The Romanian National Opera, Bucharest
Monday, 19 February 2018 , ora 14.41

"Don Carlo", a four act opera by Giuseppe Verdi, will have its premiere on Sunday, February 18, 2018 and on Thursday, February 22, 2018 at 6:30 p.m. on the stage of The Romanian National Opera, Bucharest.

Mario De Carlo took charge of the production, the setting, the costumes and the lights of the performance. The great master Tiberiu Soare will be at the conductor music stand. The Choir of The Romanian National Opera will be prepared by Daniel Jinga. The show cast includes important people of the first Romanian lyrical stage, as well as artists that are internationally recognized.

Mario de Carlo talks about the premiere of "Don Carlo" by Giuseppe Verdi which will take place on the first lyrical stage of the country:

"The stage director role (including scenography and costumes) in Don Carlo case feels like throwing yourself off the Acapulco cliff. Although you know that you will survive it - because others did it before you - the risk of getting hurt is too big; and the most important part is that the adrenaline tenssion is too high. Such powerful emotions that are full of satisfaction are hard do explain.

In Don Carlo we are facing great characters. It is true that this happens in many works of Verdi (let's think about Violetta, Rigoletto, Azucena and more), but in this case they are all very important and participating together."

The Italian stage director Mario de Carlo graduated with a Bachelor of Specialized Studies at "La Sapienza" University in Rome with master Fedele D'Amico. He collaborated with many lyrical theatres in Italy and the entire world like: "Filarmonico" Theatre in Verona ("Don Pasquale" by G. Donizetti), The Verona Arena ("Cavalleria rusticana" by P. Mascagni), "Massimo" Theatre in Palermo ("Cinderella" by G. Rossini). During the Puccianiano Festival in Torre del Lago he signs the scenography of operas "Le Villi" and "Il Tabarro" by G. Puccini.

On the stage of the Communal Theatre "F. Cilea di Reggio Calabria" he is in charge of the staging, scenography and costumes for the following performances: "Pagliacci" by R. Leoncavallo", "Rigoletto" by G. Verdi with Ștefan Pop, "Turandot" by F. Alfano and G. Puccini with Giovanna Casolla and Nicola Martinucci, "Werther" by J. Wolfgang von Goethe with Giuseppe Filianoti, "La bohème" by G. Puccini with Amarilli Nizza, "Lucia di Lammermoor" by G. Donizetti with Desirée Rancatore, "The Merry Widow" by F. Lehár with Paoletta Marrocu in her debutant role, the protagonist being Alessandro Safina.

Cast

Don Carlo:
Daniel Magdal - guest
Elisabeth of Valois:
Cellia Costea - guest
Philip II of Spain:
Ramaz Chikviladze - guest
Rodrigo, Marquis of Posa:
Cătălin Țoropoc
Princess Eboli:
Oana Andra
The Grand Inquisitor:
Marius Boloș
A brother:
Iustinian Zetea
Tebaldo:
Cristina Eremia
The Count of Lerma:
Andrei Lazăr
Voce dal Cielo:
Mihaela Stanciu

With the participation of The Romanian National Opera Orchestra and Choir

The tickets can be bought from The Romanian National Opera ticket office or online, at http://tickets.operanb.ro.

Translated by Gheorghe Roxana Cristina,
Universitatea București, MTTLC, An I