> [Archived] Events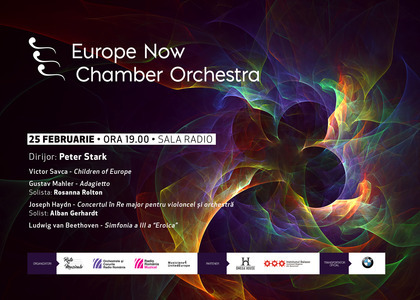 The first edition of Europe Now Festival takes place in Bucharest
Monday, 19 February 2018 , ora 15.22

The Cultural Association "Musical Routes" brings together 45 musicians from 11 European countries to "Europe Now Chamber Orchestra" for the first edition of the Festival of the same name. This will take place between the 21st and 25th of February 2018 in Bucharest and promises an unconcert-closing event on February 25 at 19:00 at the Radio Hall.

The orchestra has musicians from Austria, Croatia, Finland, France, Germany, the United Kingdom, the Netherlands, Poland, Portugal, the Republic of Moldova and Romania. The final concert will be conducted by master Peter Stark, conductor of EUYO (European Union Youth Orchestra), and the violinist Alban Gerhardt, will perform as soloist, who is the founder of M4UE (Musicians 4 United Europe) and the guest soloist of the Berliner Philharmoniker

"We are a drop of a river in the struggle against division and hatred that, at time being, seem to threaten to conquer Europe. We join initiatives of every kind - in our case, the artistic ones- that we know that they take place in hundreds of places on the old continent focusing to ensure mainly its cultural and identity cohesion than the political and economic ones. We want to show that we are united by common values and ideals, among which music and art have a place of honour. Europe is now - and so we want to preserve it - a continent that echoes Beethoven's "Ode to Joy" and thousands of other musical creations that unite us instead of separating us." declares Theodor Andreescu, president of the Cultural Association "Musical Routes".

Europe Now Festival will offer a perfect musical experience to a diverse audience, through two flash mob concerts, two chamber music concerts and a symphonic concert. The musicians, selected from the EU member states and the Republic of Moldova, will form an orchestra whose message will be the unity and the collaboration without barriers.

Tickets can be purchased at the Radio Hall Ticket and on Tickets.com.
Co-organizers: Radio Orchestra and Chorus, Radio Romania Musical
Partners: Balassi Institute - Hungarian Institute of Bucharest, Omega House
Official carrier: BMW Romania

Translated by Denisse Grigore,
MTTLC, the University of Bucharest