> [Archived] Events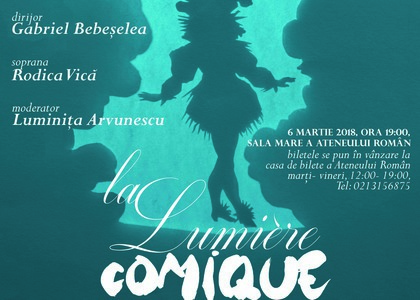 Opera FANtastica presents the Baroque music concert La Lumiére Comique
Thursday, 22 February 2018 , ora 11.20

Tuesday, March 6th 2018, starting from 19.00, the George Enescu Philharmonic and the Association for Music, Art and Culture invite you to the Romanian Athenaeum for a Baroque music concert performed by the Musica Ricercata Orchestra - the first Baroque music orchestra (tuned at a 415 Hz frequency) founded by a Romanian conductor, Gabriel Bebeșelea.
The concert, titled La Lumiére Comique, is part of the manifestations that celebrate 150 years since the foundation of the George Enescu Philharmonic and takes place during the Opera FANtastica musical meetings, initiated and moderated by Luminița Arvunescu.
TICKETS ARE SOLD AT THE ROMANIAN ATHENAEUM TICKET OFFICE
(STR. CONSTANTIN ESARCU NR. 2), TUESDAY-FRIDAY, 12:00-19:00, PHONE: 021 315 68 75)
The Musica Ricercata Orchestra is the project launched in Romania by the greatest conductor of the new generation, Gabriel Bebeșelea (30 years of age). It is a permanent orchestra comprised of 19 Romanian musicians - who live abroad - and 5 foreign musicians, specialized in the Baroque, who use instruments from the pre-Classical period.
The singer is soprano Rodica Vicã, who lives and Vienna and has until now collaborated with prestigious conductors and early music ensembles, such as Ottavio Dantone or the Accademia Bizantina.
The chance to hear a Baroque orchestra is something quite rare for Romanian music lovers - especially for those in Bucharest! - and the program selected by Gabriel Bebeșelea is a premiere in its own right. After studying and transcribing manuscripts which he found in archives, the young Romanian musician brings the music of King Louis XIV's court to the Romanian Athenaeum, with a production inspired by Jean-Baptiste Lully and Marc-Antoine Charpentier's plays based on Moliere's texts. The program will also feature selections from the meeting between Jean-Philippe Rameau and Voltaire. The mise en scène of the concert is a premiere in and of itself: its two parts are prefaced by a debate moderated by Luminița Arvunescu, a prodigious creator of radio shows dedicated to opera.
The event we bring to you is a unique undertaking in which Romanian musicians skillfully rejuvenate and reenact an entire era, spanning between the 17th century and the beginning of the 18th, an era when music, theatre, ballet and opera flourished in a way that in recent years has been reborn on the stages of lyrical theatres around the world. It is also an undertaking that has the aim of cultural synchronization to the current en vogue musical realities.
For more information, go to:
www.fge.org.ro; www.facebook.com/asociatia.muzicaartacultura

Translated by George Arion,
MTTLC 1, Universitatea București