> [Archived] Events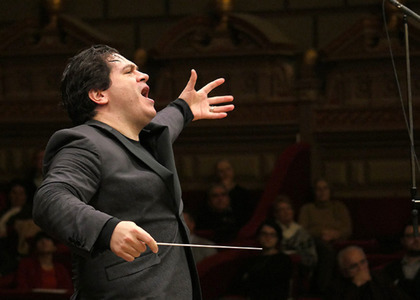 The Romanian Youth Orchestra conducted by Cristian Măcelaru performs 'St Matthew Passion' by Bach
Tuesday, 27 February 2018 , ora 9.28

The Romanian Youth Orchestra conducted by Cristian Măcelaru offers Bucharest audience an extraordinary concert on March 4, 2018, at 7:00 p.m., at the Romanian Athenaeum. The event will include the remarkable oratorio 'St Matthew Passion' by Bach, performance which consists of the collaboration between Prelude Chamber Choir by Voicu Enăchescu, Radio Children Choir managed by Voicu Popescu and soloists Nicholas Phan - tenor, Rodica Vică - soprano, Antonela Bârnat - mezzo-soprano, Cristian Hodrea - bass, Iustinian Zetea - bass.

There will be more that 120 musicians on the stage!

This is the second event of this kind organized by Cristian Măcelaru and the Romanian Youth Orchestra after the concert in December 2016 with the impressive oratorio Messiah by Georg Friedrich Haendel. But 'St Matthew Passion' by J. S. Bach represents the biggest challenge of this kind for the Romanian Youth Orchestra.

During his first years as a cantor in Leipzig, Bach composed mainly religious cantatas, but also 'Easter Oratorio' and 'Magnificat'. This period was concluded with 'St Matthew Passion', interpreted for the first audition in 1729 on the Good Friday. Out of all the four parts written by J. S. Bach which we have nowadays, 'St John Passion' and 'St Matthew Passion', composed in 1723 and 1729, remain the most popular ones. These two can be compared to big proportions cantatas in which the recitative plays a very important role, at the basis of the plot being the Gospel text. Bach proves through these authentic sacred dramas that he is an excellent theatre person. 'St Matthew Passion', on a Picander Libretto, resorts (originally) to the biggest number of interprets that Bach had ever used: two choirs (plus a children choir), two orchestras, two organs which are situated in opposite spots in the church, vocal and instrumental soloists. To the dramatic discourse there are opposed interventions (together with the evangelist) of certain characters (Pilate, Peter and Judas) and of the choir (the crowd, the apostles), with lyrical and individual meditation (arioso, arias) and finally, with the pray (choir). With its 78 parts, arranged in a flawless architecture, showing unique happiness and sadness synthesis, tenderness and love, 'St Matthew Passion' represents the highest peak of Bach's creations for the protestant church and one of the highest peaks of religious music of all times.

Concert organized by Bucharest 'George Enescu' philharmonic in collaboration with 'Tinerimea Română' National Art Center in the context of the Centenary Year celebration.

Partners: Radio Romania, Lanto Communication, 'Prietenii Muzicii - Serafim Antropov' Foundation, Bucharest Mercure City Center

Media Partners: Radio Romania Cultural, Radio Romania Music, Q Magazine, România TV, Observator Cultural, Liternet, Mediatrust, Miscareaderezistenta.ro.

For more detalis regarding the activities of 'Tinerimea Română' National Art Center and the Romanian Youth Orchestra you can check out www.tinerimearomana.ro.

The concert will be recorded by Radio Romania

BIOGRAPHIES

Romanian Youth Orchestra
The Romanian Youth Orchestra was formed in 2008 on the initiative of cello player Marin Cazacu, as an artistic and educational program supported by 'Prietenii Muzicii - Serafim Antropov' Foundation. This project gathers Romania's best young musicians for a unique artistic experience which has the purpose of reaching a high level of performance. The Romanian Youth Orchestra has been considered to be the best orchestra in the country the last years, getting recognition in a short period of time on an international level too and being appeciated by European critics as being one of the top ensembles in the world.

From the start, Cristian Mandeal was in charge of forming the ensemble. Under his artistic guidance, the orchestra turned into a successul story in Romania's musical world. Due to its ability to turn every concert into a memorable event, it offers the country an orchestra on an international level which sets a standard through its excellence.

These days, the project 'Orchestra Română de Tineret - spirit enescian și tradiție europeană' implies different creative development activities. The purpose of the program is to offer the possibility of evolving of the orchestra musicians, of assimilating a big repertoire by participating at masterclasses, and most importantly by developing the pleasure of singing with famous international conductors and soloists: Bogdan Băcanu, Sarah Chang, Amanda Forsyth, David Garrett, Stefan Geiger, Andrei Ioniță, Kristjan Jarvi, Roman Kim, Elizabeth Leonskaja, Ivan Ludlow, Plamena Mangova, Valentina Naforniță, Olga Pasichnyk, Wave Quartet, Peter Sadlo, Olga Scheps, Emmanuel Sejourne, Aleksey Semenenko and Pinchas Zukerman.

The result - a unique orchestra, applauded at the sold out concerts at the Romanian Athenaeum, Radio Hall, 'George Enescu' International Festival and on international stages like: l'Auditorium Parco della Musica in Rome, Mahler Festival in Toblach - Italy, 'March Music Day' in Ruse, Youth Orchestras Festival in Milan, Ravello Festival, Konzerthaus Berlin and Berlin Philharmonic.

Since November 2011 the ensemble is member of the European Federation of National Youth Orchestras - EFNYO. The Romanian Youth Orchestra is an active participant in the MusiXchange program, meant to make possible a great circulation of the most valuable young musicians during the programs organized by youth orchestras in Europe.

CRISTIAN MĂCELARU

Cristian Măcelaru, laureate of 'Georg Solti' Conducting Contest, 2014 edition, came into prominence on concert stages all around the world. He started to study how to play the violin at University of Miami and then studied at Rice University, graduating the violin and conducting classes of teacher Larry Rachleff. He was the youngest concertmaster at Miami Sypmhony Orchestra and debuted when he was 19 years old as a soloist at Carnegie Hall. He went to the conducting classes organized by Tanglewood Music Center and Aspen Music Festival and improved his techniques under the guidances of masters like David Zinman, Murry Sidlin, Rafael Fruhbeck de Burgos, Robert Spano, Oliver Knussen and Stefan Asbury. He worked as a resident conductor at Rice University Sheperd School of Music, musical director at Campanile Orchestra and as the assistant of conductor Larry Rachleff. He also conducted Houston Youth Symphony, which he created a chamber music program with.

As an artistic Director at Crisalis Music Project, Cristian Măcelaru set up concerts where young musicians had the possibility to collaborate with acknowledged artists. Among the successful projects is the choreography version, signed by Susana Collins, of the work 'The Four Seasons' by Vivaldi-Piazzolla. In 2012 he obtained 'Sir Georg Solti Emerging Conductor Award' and in 2014 he was nominated 'Solti Fellow'. In 2012, at the centenary celebration of Georg Solti, the conductor debuted at Carnegie Hall in a concert along with Valery Gergiev. In 2010 he conducted at Houston Grand Opera the show Madam Butterfly and directed Tanglewood Music Center Orchestra presenting for the first audition Turning Point by Colin Matthews at Tanglewood Contemporary Music Festival.

In 2012 he was the conductor that substituted Pierre Boulez in a concert with Chicago Symphony Orchestra, being praised by the speciality magazines. For the 2013-2014 season he was invited to conduct Gothenburg Symphony, Bucharest Radio Orchestra, Chicago Symphony Orchestra and the opening concert of the Caramoor Festival with St. Luck Orchestra and soloist Joshua Bell. Furthermore, he participated in the festivals which took place in Vail, Mann Center, Chautauqua and Saratoga Springs.

Cristian Măcelaru has the job of a resident conductor at Philadelphia Orchestra and for the 2014-2015 season he held concerts with Danish National Symphony Orchestra at Carnegie Hall and with the same ensemble, he went on tour in Denmark, Germany and USA. He conducted the concerts that belong to the series of anniversary events dedicated to composers Carl Nielsen and Jean Sibelius, when he accompanied famous violin players , like Anne-Sophie Mutter and Ray Chen.

During the same season he conducted symphonic orchestras from Toronto, Baltimore, Houston, St Louis, Seattle, Detroit, Milwakee and Indianapolis, and in Europe he conducted Halle Orchestra, Bournemouth Symphony and Hague Residentie Orkest in Holland. Recently, Cristian Măcelaru was invited to prestigious Royal Concertgebouw Orchestra in Amsterdam and Berliner Philharmoniker.

(Press release - 'Tinerimea Română' National Art Centre)

Translated by Gheorghe Roxana Cristina,
Universitatea București, MTTLC, An I