> [Archived] Events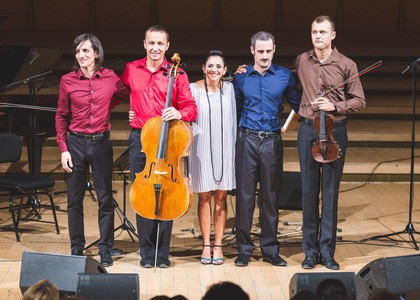 Analia Selis and ArgEnTango bring traditional Argentinian tango on the stages in Romania and Germany
Thursday, 1 March 2018 , ora 12.09

"If you get all tangled up, tango on!" (line from Scent of a Woman)

Analia Selis, alongside the other members of the ArgEnTango group - cellist Răzvan Suma, pianist Mariano Castro, bandoneonist Omar Massa and violinist Rafael Butaru, invite the audience to a meeting with traditional Argentinian tango in a new tour - ArgEnTango Tradițional - that will take place during March 2018 in ten cities in Romania and Germany.

Following the national tours "Piazzolla, a true story" editions 1 and 2 and the project "Tango at the Fortress", ArgEnTango carries on the desire to promote TANGO played in a traditional and authentic manner at the highest artistic level.

"I'm glad to come back on the stage and continue the beautiful story of tango together with the other members of ArgEnTango. With Tradițional we wanted to establish a bridge between traditional Argentinian tango and Romanian tango. The audience will be able to hear traditional tangos by Carlos Gardel, Alfredo Le Pera, Sebastian Piana, especially arranged for this quintet, as well as famous pieces from the repertoire of Romanian tango." (Analia Selis)

"During March we celebrate femininity everywhere. We want to honor this moment through the seduction of tango, a musical genre that gives emotion and passion, so it's the most beautiful declaration of love that we could have given our audience." (Răzvan Suma)

After just one year during which the ensemble went on three national tours, performed dozens of concerts and recorded two live CDs, ArgEnTango established itself as an original tango ensemble based in Romania.

The concerts in the ArgEnTango tour will take place in: Dumbrăveni (3.03.2018, 19:00, at the House of Culture), Germany (14.03.2018, Kammermusiktage Barth Festival), Ploiești (16.03.2018, 19:00, at the Hall of the "Paul Constantinescu" Philharmonic), Satu Mare (18.03.2018, 18:30, the Hall of the "Dinu Lipatti" Philharmonic), Baia Mare (19.03.2018, 19:00, at the Baia Mare Municipal Theatre), Lugoj (20.03.2018, 19:00, at the Lugoj Municipal Theatre), Timișoara (21.03.2018, 19:00, at the Capitol Hall), Zalău (22.03.2018, "Concert TenarisSilcotub"), Bistrița (23.03.2018, 19:00, at the Synagogue), Cluj-Napoca (24.03.2018, 19:00, at the Auditorium Maximum), Bucharest (27.03.2018, 19:00, at the Radio Hall, featuring special guest Radu Almășan).

Special guests for each concert will be famous tango dancers from all over Romania: Laura Iaru and Csongor Kicsi, in Dumbrăveni, Ploiești and Bucharest; Ioana Lascu and Horia Călin Pop, in Satu Mare, Zalău, Bistrița and Cluj-Napoca; Oana-Maria Horotan and Adrian Moș in Baia Mare, Cristina Daju and Alex Apetrei in Lugoj and Timișoara.

The CD Piazzolla - A True Story recorded by the members of ArgEnTango will be available in the foyers of the concert halls. After each concert there will be an autograph session.

ArgEnTango will continue its supporting partnership with HOSPICE Casa Speranței, the only foundation that offers free paliative care to pacients in Romania suffering from terminal diseases. The concerts in the Tradițional tour will contribute to the cause.

The ArgEnTango ensemble is comprised of:

ANALIA SELIS. After her famous career in commercial music, Analia switches her focus towards authentic Argentinian music - the tango. The two editions of the tour Vă place tango? / Do You Like Tango?, as well as the greatly successful project Tango Simfonic / Symphonic Tango, are the clear proof that tango is Analia's future, a true artistic expression of someone coming from Argentina. www.analiaselis.com

RĂZVAN SUMA. Soloist of the Radio Orchestras and professor at the University of Music in Bucharest. He has built an international career as a soloist, with over 1000 concerts and recitals that were highly successful on every continent. With 12 CDs as evidence of his skill, Răzvan is considered one of today's most prolific Romanian cellists. www.razvansuma.com

MARIANO CASTRO. With Narcotango, Mariano Castro - in the role of a trifecta: interpreter, composer and arranger - was nominated at the Latin Grammy Awards two times (2009 and 2010) for Best Tango Album. With this band, but also as a pianist and solo guitarist, he has performed in over 25 international tours in Europe, the United States, Canada and Latin America. www.marianocastro.ro

OMAR MASSA. As an ambassador of Piazzolla's music on the big stages of the world, alongside artists like Plácido Domingo, Omar Massa is a perennial presence on the stages of great orchestras in America, Europe and Asia. Omar is a founding member of the bandoneon quartet Quatrotango and is frequently invited to give master classes all over the world. He will be in Romania for this project in particular. www.omarmassa.com

RAFAEL BUTARU. Concertmaster of the Bucharest National Opera, of the Romanian Youth Orchestra and the National Symphonic Orchestra of Romania, violinist Rafael Butaru is a perennial presence on national and international musical stages. As a soloist and permanent guest of the SoNoRo Festival, he has performed in concerts alongside musicians such as Gilles Apap, Daniel Rowland, Răzvan Popovici, Diana Ketler, David Cohen, Srdjan Vukasinovic and many others.

Translated by George Arion,
MTTLC 1, Universitatea București