> [Archived] Events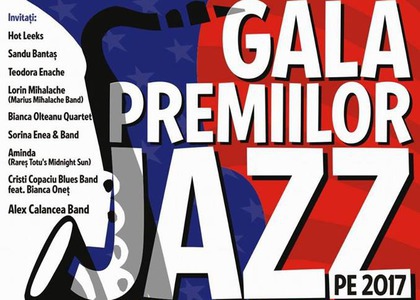 The Jazz Awards Gala
Tuesday, 13 March 2018 , ora 12.09

MUZZA Foundation and the Romanian Cultural Institute organize on Sunday, April 1, 2018 at 6:30 p.m., at Hard Rock Cafe, the Jazz Awards Gala - MUZZA Awards for 2017. Reaching its 16th edition, the Gala is one of the most important yearly events for this kind of musical genre, a real celebration for this category whose purpose is, as always, to emphasize and reward the most successful performances that took place the previous year.

This year's Gala has as guests, among others, the experimented musicians TEODORA ENACHE and MARIUS MIHALACHE, fenomenal ethno jazz band ALEX CALANCEA BAND (Moldavian R.), young musicians laureates of recent contests: Bianca Olteanu, Cristi Copaciu, Lorin Mihalache, Bianca Oneț and Sandu Bantaș, skilled soloists Sorina Enea and Aminda (with Rareș Totu's Midnight Sun) and veterans blues-mani which reunited last year to create a real SUPERGROUP: HOT LEEKS (Iulian Vrabete, Vali Vatuiu, Paul Negoița and George Baicea), which do not need any sort of presentation to get the public interested.

The jury, formed by prestigious musicians and journalists, gave the EXCELLENCE AWARD to the appreciated composer, arranger and conductor from Cluj, Ștefan Vannai, the reasons being his age of 75 years, the 35 years of work and his success with the Big Band, GAIO.
All the rewarded bands will hold micro-recitals for the public that loves jazz and blues.
The Gala is organized with the support of various institutions, sponsors, media partners and friends, everybody having the same passion for jazz. The event is realized and presented by musicologist Alexandru Șipa. The tickets have the following prices:
- VIP: 70 lei, seat at the table in front of the stage (only 80 seats).
- Acces General: 50 lei, seat at the table in the hall.
Tickets reservations can be made at: 021-2066261.

More details on www.fundatiamuzza.ro

Translated by Gheorghe Roxana Cristina,
University of Bucharest, MTTLC, First Year