> [Archived] Events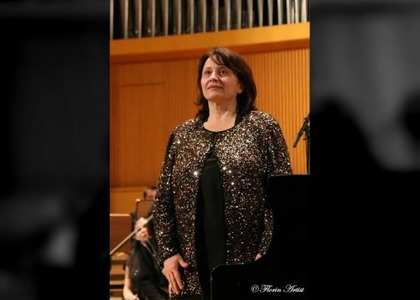 Chopin's music brilliance displayed in piano player Dana Borșan's performance
Wednesday, 14 March 2018 , ora 12.25

On Thursday, 2018, March 15 and Friday, 2018, March 16 at 7:00 p.m. in the Great Hall of the Romanian Athenaeum, George Enescu Philharmonic Orchestra, conducted by Russian conductor Valentin Uryupin, will include in its schedule Variațiunile cinematografice, by Dumitru Capoianu, Piano Concerto No. 2 in F minor, Op. 21 by Frédéric Chopin and Symphony No. 2 in D major, Op. 73 by Johannes Brahms. The soloist will be Dana Borșan, to whom the concert is very meaningful: on February 1979, the artist performed on the stage of the Romanian Athenaeum for the first time, using this score.

"Master Ion Voicu offered me the chance to debut with George Enescu Philharmonic Orchestra on the stage of the Romanian Athenaeum, with Piano Concerto No. 2 in F minor, Op. 21 by Frédéric Chopin when I was still a student. I will never forget that, it was the moment that marked my affirmance in the concert life in Bucharest and Romania. Chopin's music is whenever and wherever one of the public's favorites because of its unique melodiousness and unmistakable feeling and sensibility. Its melancholic and nostalgic cantilena goes straight to one's heart, along with the ardente outbursts specific to the Polish "revolutionist". Chopin implies a 24 carats sound quality, an extremely intricate phrasing and piano playing. The Great Hall of the Romanian Athenaeum is truly one of the most exquisite and appreciated concert halls in the world, it is deluxe, elegant and has very good acoustics. The chance to hold a concert on this stage is both a blessing and a responsability", piano player Dana Borșan confessed to us.
Thursday, 2018, March 15 and Friday, 2018, March 16,
Romanian Athenaeum, George Enescu Philharmonic Orchestra

Conductor: Valentin Uryupin
Soloist: Dana Borșan

Schedule:
Dumitru Capoianu
Variațiuni cinematografice
Frédéric Chopin
Piano Concerto No. 2 in F minor, Op. 21
Johannes Brahms
Symphony No. 2 in D major, Op. 73

The tickets can be bought from the Romanian Athenaeum Ticket Office.
Schedule: Tuesday - Friday 12:00 - 7:00 p.m.
Phone: 021.315.68.75
You can make reservations on www.fge.org.ro

An interpret with a marvelous power of expression, an artist with a flawless musicality, Dana Borșan won her well deserved place in the Romanian piano players elite. She was born in Cluj, graduated from Bucharest National University of Music and won a scholarship form the European Community, at Hochschule der Künste in Berlin. She also studied abroad with Hans Leygraf at Mozarteum-Salzburg and Helene Boschi at Weimar.

An important part of her career was when she won the Second Prize and the Silver Medal at one of the most important international competitions, "Robert Schumann" contest form Zwickau. The chosen intepretation, the emotional domination, the architectural structure were some of the qualities that brought her this prize at the age of 19, marking her debut in the international concert life. Later she came back as a guest at "Robert Schumann" International Festival from Zwickau.

Dana Borșan has held over 900 concerts and recitals performances on prestigious stages from Berlin, Dresda, Stuttgart, Essen, Paris, Brussels, Warsaw, Vienna, Sydney, Budapest, Oslo, Hong-Kong, Bologna, Assisi, Aberdeen, Cork etc. She had the most concerts in Germany. The pianist's repertoire includes over 50 concerts for piano and orchestra, as well as recital and chamber music recitals. Dana Borșan conducted in 2006 a special project - Mozart Integral for Piano and Violin, an event that happened for the first time in Romania, which consisted in concerts held with Radio Chamber Orchestra and a serie of 8 CDs edited by "Casa Radio". The pianist's discography is completed by 5 CDs produced by German labels KU Classic and Eterna and a disk at Electrecord.

During her activities as an artist, Dana Borșan also has had remarkable didactic activities. She is a professor at Bucharest National University where she has been teaching piano since 1990. Her students won multiple prizes at both national and international contests and made themselves known in the concerts field from Romania and abroad: Toma Popovici, Rebeca Omordia, Csiki Boldizsar, Maria Selena Pop, Amalia Bonciocat, Silvia Ciorbaru, Daniel Dascălu, Alexandra Costin, Cătălin Dima… She held mastership classes at the universities from Vienna, Paris, Weimar, Stuttgart, Nurenberg, Cork, Oslo, Wuppertal, Cantania. She was part of the juries for the international contests from Bucharest ("Enescu"), Oslo ("Edward Grieg") Hong Kong, Guerande / France.

Dana Borșan has been the concertist soloist at the Radio Orchestras and Choirs since 2000. The artist received the awards of the Musical Critics Union (1991 and 2006) offered by the magazine "Actualitatea muzicală" (1998), the Order "Meritul Cultural" as chevalier (2001) and Order "Meritul pentru învățământ" (2004) offered by the Romanian President.

Valentin Uryupin, graduate of Moscow Conservatory, became renown as one of the most versatile young musicians of his generation. Laureate of international clarinet contests from Geneva, ARD, Beijing, Pretoria and Ghent, Valentin Uryupin is also a very appreciated conductor, renown in the art field and also for his symphonic repertoire. After winning the Third Prize at the prestigious international conducting competition "Gustav Mahler", in 2017, he won the International Conducting Contest "Sir Georg Solti" in Frankfurt. He was invited to conduct at Teatro Real from Madrid, RTE Symphony Orchestra from Dublin, Ostrava Philharmonic from Czech Republic, as well as at important institutions from Russia, Ukraine, Belarus and Kazahstan. In 2015 he was in charge of the violin accompaniment at "Tchikovsky" International Contest from Moscow. He is a permanent conductor of the Opera and Balett Theatre from Perm and of the Music Aeterna Orchestra. He is also permanent guest conductor of the Novosibirsk Opera, New Russia State Symphony Orchestra and Radio Orchestra from Minsk (Belarus). In 2015 he became the main conductor of Rostov Symphonic Orchestra. Valentin Uryupin is the founder of "Arpeggione" Chamber Orchestra from Moscow which he went on multiple tours with in Asia and which he held a concert with in the Tchaikovsky Conservatory Great Hall from Moscow. He collaborated with Valery Gergiev, Anne-Sophie Mutter, also being Vladimir Jurowski's assistant.

Translated by Gheorghe Roxana Cristina,
University of Bucharest, MTTLC, First Year