> [Archived] Events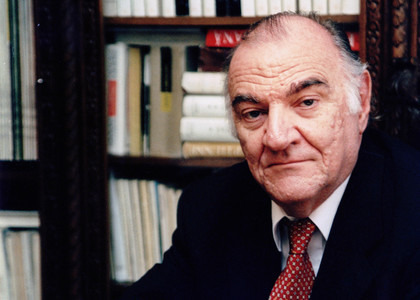 On his 90th birthday, Valentin Gheorghiu returns to the stage of Radio Hall
Friday, 16 March 2018 , ora 12.42

On Friday, March 16, at 7 p.m., Maestro Valentin Gheorghiu returns with an exceptional performance next to the pianist Roxana Gheorghiu and the National Radio Orchestra. The conductor of the performance will be Philip Mann, a very emblematic name on the international stage, after serving as an assistant conductor at prestigious orchestras such as Royal Concertgebouw Orchestra in Amsterdam, the Vienna Philharmonic and the Berlin Philharmonic. The programme starts with two pieces by Mozart: the overture from the opera Così fan tutte and Concert No. 10 in Eb (E flat) for two pianos and orchestras. During the second part the orchestra will perform symphony No.9 in C by Franz Schubert.

Valentin Gheorghiu was highlighted as an exceptional pianist and composer, collaborating with important names from music, next to which he performed in Austria, France, Germany, The United States, Switzerland, Italy, Great Britain, Sweden, Norway, Canada, Spain and Japan. He was awarded numerous prizes in international competitions for piano. At present he is a member of the jury during the P. I. Ceaikovski, Van Cliburn, Fr. Chopin, A. Rubinstein, L. van Beethoven, R. Schumann and J. S. Bach contests.

Roxana Gheorghiu, a performer with musical activity that denotes a very attentive concern not only for the concert aspect but also for chamber music, attended and graduated university and finished her master's degree at the University of Music in Bucharest along with pianist Gabriel Amiraș, and continued by completing her studies at Weimar. She had tours in Italy, Luxembourg, Hungary, Poland, Spain, Russia, Greece and so on. She finished her Doctoral Degree in Music and is a teacher at the University of Music in Bucharest.

The concert can be listened to live on Radio Romania Cultural and Radio Romani Musical in the country and streaming live on the Internet, accessing www.radioromaniacultural.ro and www.romania-muzical.ro.

The tickets and the subscriptions for the events of the Orchestras and the Radio Choirecan be bought on-line at www.bilete.ro. These can be bought from the ticket office of the Radio Hall and are available, as well, at the Romanian Post Offices with the label Bilete.ro as well as in Germanos shops and Immedio with the label Bilete.ro.

For further information regarding the Orchestras and the Radio Choirs please check the site www.orchestreradio.ro.

Translated by Ghencea Alexandra,
An 1, Master MTTLC, Universitatea Bucuresti