> [Archived] Events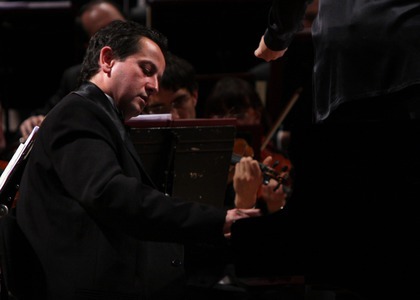 Pianist Horia Mihail in concert with the National Radio Orchestra, at the Radio Hall
Monday, 26 March 2018 , ora 10.09

Friday, March 23, at 19:00, pianist Horia Mihail returns to the Radio Hall, alongside the National Radio Orchestra, in a concert under the baton of American conductor Philip Mann. Carnival Overture, Op. 92, by A. Dvoűák, will open the evening program, followed by Concerto no. 2 in G minor for piano and orchestra, op. 22, by C. Saint-Saëns, and Paintings from an exhibition by Musorgski-Ravel.

With an excellent reputation and a career in full ascension on the musical stages in the United States, Europe and Asia, Philip Mann was assistant conductor at the Royal Concertgebouw Orchestra, the Philharmonic in Vienna and the Philharmonic in Berlin, studied and taught at Oxford, where he won the competition to become the lead conductor of the Oxford University Philharmonia.

Orchestra and Radio Choir concertist and soloist, Horia Mihail is today one of the best rated Romanian pianists. Known to the Romanian public in recent years as a protagonist of the Travelling Piano Tour, but also as a participant in the Magic Flute, The Duel of Violins, or George Enescu's Violin tours, Horia Mihail has so far hosted concerts and recitals in numerous countries on 4 continents.

The concert can be listened live on all frequencies Radio Romania Cultural and Radio Romania Musical in the country and streaming live on the Internet, www.radioromaniacultural.ro and www.romania-muzical.ro.

Tickets and subscriptions for Radio Orchestras and Choirs events will be purchased online via www.bilete.ro. These can also be purchased at the Radio Hall's Ticket Office and are also available at the Romanian Post Offices signaled Bilete.ro and in the Germanos and Inmedio stores, also signaled Bilete.ro.

For more information on Radio Orchestras and Choirs, please visit www.orchestreradio.ro.

Translated by Costache Alexandra Iuliana,
MTTLC, 1st year