> [Archived] Events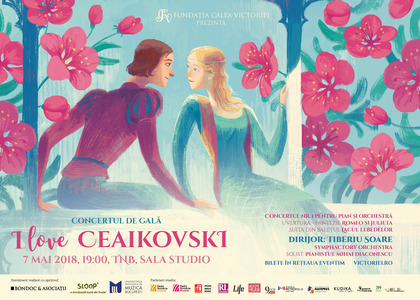 Gala Concert 'I LOVE TCHAIKOVSKY at the Bucharest National Theatre, Studio Hall
Monday, 26 March 2018 , ora 12.30

We invite you on the evening of May the 7th at 19:00 o'clock at the Gala Concert "I LOVE TCHAIKOVSKY" organized by Calea Victoriei Foundation and dedicated to the greatest Russian composer, the magician of sounds and the creator of magical worlds: Pyotr Ilyich Tchaikovsky. Conductor Tiberiu Soare and Symphactory Orchestra, a remarkable independent orchestra, are joined by the young and talented pianist Mihai Diaconescu.

"I feel that I will live a long time", said Tchaikovsky once, and he was right: his music is performed all around the world, the pieces he composed are among the most famous works in the history of classical music, adored by audiences off all ages.

For our journey into the musical universe imagined by Tchaikovsky, we have chosen three different destinations, full of expression and memorable surprises.

In the first part we will hear the Piano Concerto No.1, one of the most famous symphonic concerts. 130 years after the completion of this spectacular composition, the concert manages to surprise us through its freshness and robustness: a balanced creation, but full of contrasts, alternating between soft, romantic moments and majestic and powerful ones.

The second stop will take place in Shakespeare's world: Romeo and Juliet, brought to life through passionate music as heard in movies, written in a classical, rigorous sonata form, but enriched by Tchaikovsky with a personal view of the story.

The last stop in the musical universe created by the great Russian composer unveils us the Swan Lake suites, the paragon of the Romantic ballet, and the most often performed ballet in the world. The suites include character dances and represent a journey through several musical styles and types of European dances: Neapolitan dance, Spanish dance, mazurka, Hungarian and Russian dances.

Joy, applauses, hugs, photos with musicians and friends as well as autographs offered from the heart will wrap up the evening.

The Gala Concert "I LOVE TCHAIKOVSKY " is organised with the support of the Bondoc și Asociații SCA law firm (Bondoc & Associates), SLooP and the National University of Music Bucharest.

Media partners: Radio România Muzical, Radio România Cultural, RFI România, România Liberă, Forbes Life, Agerpres, 100delocuri.ro, Bookblog, Bookhub, Bucureștii Vechi și Noi, Kudika, 9AM, Ziarul Metropolis.

Tickets for the Gala Concert 'I LOVE TCHAIKOVSKY can be purchased only through Eventim network: Vodafone, Orange, Germanos, Carrefour, Cărturești and Humanitas bookshops, OMV gas stations or online.

Translated by Georgiana Nutu,
MTTLC 1, University of Bucharest