> [Archived] Events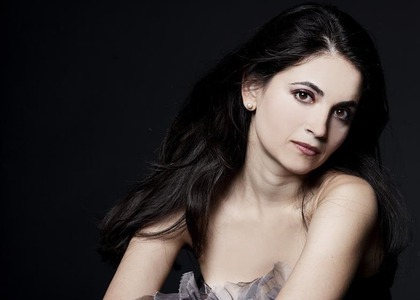 Famous soprano Teodora Gheorghiu - the first recitals tour in Romania
Wednesday, 11 April 2018 , ora 10.55

After performing on the biggest scenes of the world, soprano Teodora Gheorghiu is preparing for her first recital tournament in Romania that will take place between 16-29 March 2018 in six cities in the country and will end in Bucharest where the soprano will sing on the stage of the Romanian Athenaeum.

"I always return home with all my heart, I have great emotions, especially now that I will see in a very short time, an audience from several corners of the country ...", said soprano Teodora Gheorghiu. "The program I have prepared for my first recital tour in Romania includes areas and works from the Mozart, Rossini, Verdi, Bellini and Donizetti chamber music creations. It is a rich and harmonious program that I hope our audience will appreciate. "

Voice recital
Thursday, 29 March 2018, 19:00 - 21:00
Great Hall

Teodora Gheorghiu
The piano Franck Villard

Schedule:
Gioachino Rossini
La separazione
La partenza ºi La pastorella delle Alpi din Serate musicali
Gaetano Donizetti
Com'e bello quale incanto din opera Lucrezia Borgia
Giacomo Meyerbeer
D'una madre disperata din opera Il crociato in Egitto
Gaetano Donizetti
Eterno amore e fè din Collezione di canzonette
Il barcaiolo din Nuits d'été à Possilipo
La ninna nanna din Ricordi Napoletani
Gioachino Rossini
Tanti affetti in tal momento din opera La donna del lago
Vincenzo Bellini
Col sorriso d'innocenza din opera Il Pirata

Tickets can be purchased from the Romanian Athenaeum Ticket Office.
Program: Tuesday - Friday 12:00 - 19:00
Phone: 021.315.68.75
For reservations visit www.fge.org.ro

The musical destiny of Teodora Gheorghiu was influenced directly by the great José Carreras, who remarked her at the Julian Gayarre International Singing Competition. After this contest, Carreras offered her a scholarship. Subsequently, she won several competitions, being awarded, among others, the "George Enescu" International Contest in Bucharest and the prestigious Queen Elizabeth Competition. The soprano also benefited from the scholarship "Herbert von Karajan".

In 2004 she debuted on the stage of the Vienna State Opera, and between 2007 and 2010 she constantly performed on this stage. She has been invited to the major European scenes such as the Théâtre de la Monnaie in Brussels, the Grand-Théâtre in Geneva, the Théâtre de Champs-Elysées in Paris, the Lorraine National Opera in Nancy, the Opera House in Lucerne, the Vienna State Opera. In 2014 she was invited to the Glyndebourne Festival in the role of Sophie (Der Rosenkavalier - R. Strauss). Teodora Gheorghiu has collaborated with renowned conductors such as Seiji Ozawa, Marco Armiliato, Franz Welser-Möst, Christophe Rousset, Adam Fisher and Bertrand de Billy.

Starting with 2015, Teodora Gheorghiu approached a repertoire of lyrical soprano and starred in roles such as Mimi (Boema - G. Puccini) and Madama Corteze (Il Viaggio a Reims - G. Rossini). With the role of Figaro's Wedding Countess by W.A. Mozart, she has made an ample tour in Japan.

Translated by Denisse Grigore,
MTTLC, the University of Bucharest;
Proofreading/Editing Mihaela Ghițescu,
MTTLC An II