> [Archived] Events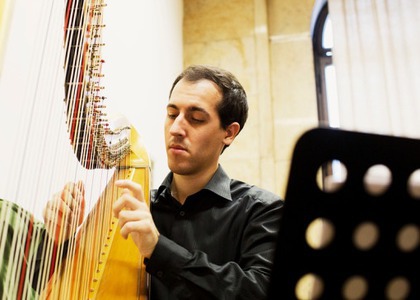 The Tuesday evening session. Harp Recital - Viktor Hartobanu / Austria
Wednesday, 11 April 2018 , ora 14.45

Viktor Hartobanu is the winner of the Grand Prix of the Belgian Félix Godefroid International Harp Contest, the Second Prize of the competition of the "Franz Josef Reinl" association in Vienna and the finalist of the USIHC Composition Competition in Bloomington, USA. A complex musician, an appreciated performer and an inspired composer who directs his entire creative force to a particular instrument - the harp.

Born in 1990 in a family of Romanian musicians, Viktor received his first piano and harp lessons from his mother at the age of 5. At 9 years old, he entered the young talent class of the Leipzig Music Conservatory. From 2008 to 2010 he studied in the class of Prof. Max Koch, where he obtained the Harpist and Teacher's Diploma. Years of study followed with Prof. Florence Sitruk in Geneva and Prof. Jana Bouskova in Brussels. After that, he oobtained the harpist post in the Berlin State Chapel where he sang under the baguette of the masters Daniel Barenboim, Sir Simon Rattle, Zubin Mehta,

Gustavo Dudamel .... He was invited to music festivals in Germany, England, San Marino, Thailand and Romania.

Viktor Hartobanu is a harp teacher at the Conservatory of Music in Feldkirch, Austria. We're glad to have him invited to the Tuesday Session in the evening.

The Tuesday evening session

Tuesday, 03 April 2018, 19:00 - 21:00
Small Hall
Harp recital
Viktor Hartobanu
Guests:
Miruna Vidican
Andrei Olaru
Time schedule:

* George Enescu / Viktor Hartobanu
Rapsodia românã nr. 2

* Viktor Hartobanu
Sheherazade-Fantasie, op. 3, no. 1
Chants, op. 3, no. 2-4
Palmyra, op. 3, no. 5

* Wolfgang Amadeus Mozart
Adagio from Concerto no. 23 for piano and orchestra, KV 488 (arts V. Hartobanu)

* Viktor Hartobanu
Phantasy for harp and piano after a theme by Haydn in the style of Parish-Alvars, op. 4, no. 1

Translated by Denisse Grigore,
MTTLC, the University of Bucharest;
Proofreading/Editing Mihaela Ghițescu,
MTTLC An II