> [Archived] Events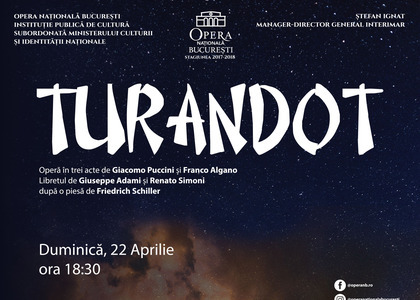 This Sunday, Turandot at the Romanian National Opera in Bucharest
Thursday, 19 April 2018 , ora 14.39

On Sunday, April 22, 2018, starting from 18.30, the Romanian National Opera in Bucharest presents the semi-stage opera Turandot by Giacomo Puccini, conducted by maestro Tiberiu Soare.
Soprano Dragana Radakovic as Turandot and tenor Kamen Chanev as Calaf will be the special guests of the evening.
Turandot is an opera in three acts by Giacomo Puccini, with a libretto by Giuseppe Adami and Renato Simoni. It is based on a play by Friedrich Schiller, which in turn has its origins in a Persian fairytale included in Carlo Gozzi's 18th century anthology, 1001 Days. The score was left unfinished by Puccini and was later completed by Franco Alfano.
The world premiere of the opera took place on April 25, 1926 at the Teatro Alla Scala in Milan, under the baton of Arturo Toscanini. During the inaugural concert, the conductor stopped the performance at the exact moment in the score where Puccini had himself stopped. "Here, the Maestro put down his pen", Toscanini said. After a moment of silence in the hall, a shout was heard from the balcony - "Viva Puccini!" - followed by a public ovation.
Over time, Puccini's opera became famous worldwide for Nessun dorma, the famous final act aria performed by the most important tenors in history.
Here is the cast for the show on April 22 at the Romanian National Opera in Bucharest: Turandot - Dragana Radakovic (guest), Altoum - Valentin Racoveanu, Timur - Horia Sandu, Calaf - Kamen Chanev (guest), Liu - Crina Zancu, Ping - Florin Simionca, Pang - Liviu Indricău, Pong - Andrei Lazăr, The Mandarin - Dan Indricău.
Tickets can be found at http://tickets.operanb.ro/ and at the ticket office of the Romanian National Opera House in Bucharest.
The next performances will take place on April 27 and May 18, 2018, starting at 18.30.
Official partner: Enel România
Sponsors: Aqua Carpatica, Leonidas, Agapitos Cofetărie, Băiatul cu flori
Partners: Zarea, Artmark, Hotel Siqua
Media partners: Radio România Cultural, Radio România Muzical, Romantic FM, Gold FM, Radio Seven, Observator Cultural, Agerpres, Business Review, Ziare.com, Business24, Raftul cu Idei, Teatral.ro

Translated by George Arion,
MTTLC, An I;
Proofreading/Editing: Mihaela Ghițescu MTTLC, AN II