> [Archived] Events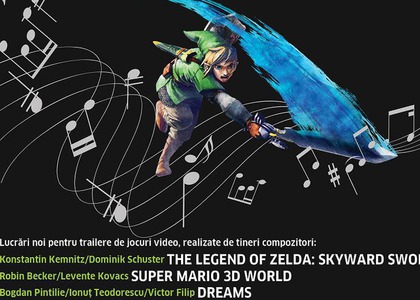 Video games and classical music at the Radio Hall
Friday, 4 May 2018 , ora 12.48

On the evening of May the 4th, at 19.00, Radio Romania and Goethe Institute invite you at the Game Heroes Concert at the Radio Hall to convince you that video games and classical music really fit together.
The National Radio Orchestra conducted by Stefan Geiger will present new orchestral arrangements of young composers, produced especially for some classic games. The video games fans will have the chance to rediscover well-known pieces of their favourite genre, for example Angry Birds or Blushhock, in classical orchestrations.
Gaming music is globally an increasingly exciting field for composers and classical musicians with creative potential. Goethe Institute creates bridges of communication in this field and interconnect young composers, musicians and gaming specialists.
During the concert, there will be also a Game Music Contest, where three young Romanian composers will participate: Bogdan Pintilie, Ionuț Teodorescu and Victor Filip. They created new orchestral scores for the trailer of the Dreams video game and were selected by Goethe Institute after a game music workshop led by Dominik Schuster (Germany), in November 2017.
Goethe Institue and Radio Romania hope to bring together with the occasion of this event as many lovers of the video games and classical music as possible. The event is presented by Mihai Constantin.
There are included in the program Benny Oschmann with The Raven - Legacy of a Master Thief. Ouverture; Konstantin Kemnitz/ Dominik Schuster with The Legend of Zelda: Skyward Sword; Ari Pulkkinnen with Angry Birds; Robin Becker/Levente Kovacs with Super Mario 3D World; Bogdan Pintilie/Ionuț Teodorescu/Victor Filip with Dreams, the last three in new orchestral versions, and after the break Garry Schyman with Bioshock 2 Suite, Koji Kondo with Super Mario Bros. Medley + live gaming with Malternativ, Yasunori Mitsuda: Chrono Cross. Suite.
The concert can be heard live on Romania Cultural Radio and Radio Romania Music from all over the country and on live streaming on the Internet at www.radioromaniacultural.ro and www.romania-muzical.ro.
The tickets and the membership cards for the events of the Radio Orchestras and Choirs can be purchased online on www.bilete.ro or at the Radio Hall ticket office. They are also available at offices of the Romanian Post and in the Germanos and Inmedio stores that have Bilete.ro stickers.
For more information about the Radio Orchestras and Choirs, visit www.orchestreradio.ro.

Translated by Georgiana Nuțu, An I, master;
Proof:Ioan Enache, MTTLC 2