> [Archived] Events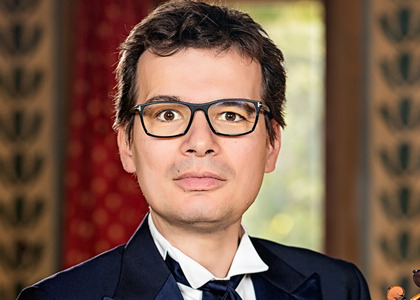 'Ballade: A Century of Music' on the International Stradivarius Tour
Wednesday, 16 May 2018 , ora 12.55

The most precious and inspired compositions in Romanian classical music
The 11th edition of the International Stradivarius Tour, "BALLADE: A CENTURY OF MUSIC" is about to begin. Between the 9th of May and the 11th of June 2018, 17 concerts will take place in Romania, followed by a series of concerts abroad -a spectacle of the finest music, makingthe Stradivarius Tour one of the most anticipated musical events of the year.

In the public conscience, Alexandru Tomescu, the most renowned contemporary Romanian violin player, encompasses a calling and an artistic fate, backed by an extraordinary energy to materialize them, and, furthermore, by the chance to play the Stradivarius Elder-Voicu violin.
In the year dedicated to the Great Union Centenary, Alexandru Tomescu, together with piano player Angela Drăghicescu, will premiere the most prized pieces composed in a century of Romanian classical music by Enescu, Porumbescu, Lipatti, Jora, Nottara, Olah, Capoianu or Mircea Chiriac. As part of the musical spectacle that is the Stradivarius International Tour 2018, the audience is treated to a very special and unique musical arrangement for violin, piano and choir by Master Grigore Cubaldu of Ciprian Porumbescu's Ballade, with the extraordinary participation of the National Choirs in the Cantus Mundi project and the Radio Children's Choir.

The series of concerts taking place in Romania begins on May 9th at the Opera and Ballet Theatre "Oleg Danovski" in Constanța, May 10th - "Maria Filloti" Theatre in Brăila, May 11th - Brașov State Philharmonic, May 15th - Oradea Philharmonic, May 17th - Great Festive Hall in Sighișoara, May 18th - Sinagogue/Bistrița, May 20th - Students Cultural Center in Suceava, May 21st - Palace of Culture in Iași, May 22nd - "Gheorghe Pastia" Theatre in Focșani, May 29th - Endless Column of Brâncuși Park in Târgu-Jiu, June 2nd - "Banatul" Philharmonic in Timișoara, June 3rd - Thalia Hall of the Sibiu State Philharmonic, June 5th - Sala Radio in Bucharest, June 6th - Ploiești State Philharmonic, June 7th - "Arcuș" Cultural Centre in Sfîntul Gheorghe, and will come to an end on June 11th at the "George Ciprian" Theatre in Buzău. All concerts start at 19:00. The tour will then continue abroad: Belgium, France, Italy, Spain, Sweden and the USA. In addition, on the 20th of May, Tomescu will also perform at the George Enescu Memorial House in Mihăileni, Botoșani, as part of a social and educational project that the violin player has been involved in since 2015.

The 2018 project dedicated to the Great Union Centerary is called "BALLADE: A CENTURY OF MUSIC" and it is a great opportunity to remember and celebrate the most important and unique moments in our nation's history. Therefore, the purpose of the International Stadivarius Tour 2018, as a national cultural brand, is to bring forth the most precious and inspired pieces of Romanian classical music, works of art that transcend time and inspire generations of musicians all over the world.

This year's repertoire is a 70-minute collection of musical masterpieces, including unique compositions, such as "Mica Suită" by Mihail, Dinu Lipatti - "Theme and variations From Sonatina Op.1", George Enescu - "Legend", George Enescu - "Aubade", George Enescu - "Hora Unirii", Nottara - "Siciliana", Mircea Chiriac - "Serenada", Dumitru Capoianu - "Habanera", Tiberiu Olah - "Sonatina", Ciprian Porumbescu - "Ballade for Violin and Piano" with a choir, arranged by Master Grigore Cudalbu.

A prominent feature in Alexandru Tomescu's artistic profile is his dedication to bringing music to regular people, as well as devoting a significant amount of his musical performances to charitable events. He is an artist that is obviously driven by a passion for noble causes and his presence on the Romanian public scene stands out all the more because of this selflessness. The 2018 Stradivarius Tour also supports a social cause relevant to the public interest: "Sound for children's health", a project of the NGO "Life Educational for All" that is concerned with equipping children's rooms in countryside hospitals with musical collections, as well as TVs, DVD players, Audio players, headphones, DVDs, video games, musical instruments, drawing books, literature, and supplies such as coloured cardboard, crepe paper, plasticine etc.

"As in the previous years, it is with great joy that I look forward to being reunited with an audience that has a love for music and beauty on the Stradivarius Tour! This year we are all celebrating the Centenary, so now we hold Romanian music dear to our hearts more than ever. Together with pianist Angela Drăghicescu, I will perform some spectacular pieces by Lipatti, Jora, Enescu and others. The big surprise of each night will be the encounter with the choirs in the Cantus Mundi project when we perform Cirprian Porumbescu's Ballade. This piece has been very dear to me since I was child. For many years I dreamt of this magical encounter between the sound of the violin and the purity of children's voices. I am very glad that I am now able to share it with Romanians and with the whole world!" says Alexandru Tomescu.

Translated by Andreea Panțîru, MTTLC An I;
Proofreading Mihaela Ghițescu MTTLC An II