> [Archived] Events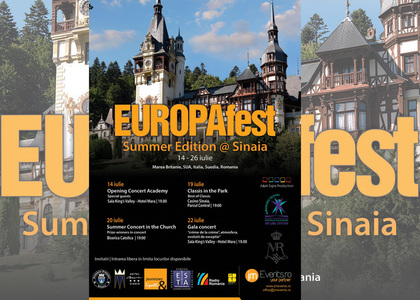 It begins EUROPAfest Summer Edition! Sinaia, 14-26 July
Wednesday, 18 July 2018 , ora 11.33

After the success obtained by 25 anniversary issue of EUROPAfest – jazz, blues, pop and classic in May in Bucharest and Sibiu, jmEvents and Jeunesses and Dinu Lipatti develops the summer edition of Sinaia Festival, on 14-26 July.
EUROPAfest Summer Edition, organized in partnership with Sinaia TownHall and Mara Hotel, has already became a long-awaited tradition for both locals and tourists. In its agenda can be found classical music concerts and Summer Music Academy Sinaia Dinu Lipatti.
The festival lasts 2 weeks and presents artists from several countries. With titles like "Summer Concert in the Church", "Classic in the Park", "Gala Concert", the organizers invite the public – between 12-26 July – to leave behind the bustling cities and to enter into the magical atmosphere created at Sinaia Casino, Central Park, King's Valley Hall – Mara Hotel and Catholic Church.
Summer Music Academy Sinaia is an advanced and efiicient training stage of musical studies. Among the invited professors there is Remus Azoiței/UK, a prestigious name of Romanian Violin School, one of the most apreciated artist of our time, working at the present within the elite of London music, as a professor at Royal Music Academy of London. Described by the British Magazine "The Strad" as an "incurable virtuoso with soul and fabulous technique", Remus Azoiței performed in famous halls as Carnegie Hall and Lincoln Center in New Work, Concertgebouw in Amsterdam, Salle Cortot in Paris, Konzerthaus in Berlin, St-Martin-in-the-Fields in London, Konzerthaus in Vienne and Palais de Beaux Arts in Bruxelles. The Gramophone states "the exquisite and vibrant style of Remus Azoiței... a distinct performer who combines temper, skill and elegance of the performance in a very special way."
Festival's Agenda:
07 | 19:00 | "Opening EUROPAfest Academy" Concert - King's Valley Hall, Mara Hotel
19.07 | 19:00 | "Classic in the Park" Concert – Sinaia Casino, "Dimitrie Ghica" Central Park
20.07 | 19:00 | "Summer Concert in the Church" Concert – Catholical Church
22.07 | 19:00 | "Gala EUROPAfest Summer Edition" Concert - King's Valley Hall, Mara Hotel

Summer Music Academy Sinaia Dinu Lipatti

The access to the concert is by invitation only; free entrance within the limit of seats. In 2005 EUROPAfest was the first event from Romania
that had the Romanian Royal House

's

Hight Patronge and in 2005 EUROPAfest received the festival title
EFFE | Europe for Festivals, Festivals for Europe - Europe's finest festivals, a training stage launched by the European Comitte and Parliament through European Festivals Association

Translated by Bianca Ene, MTTLC An I;
Proofreading: Mihaela Ghițescu, MTTLC An I