> [Archived] Events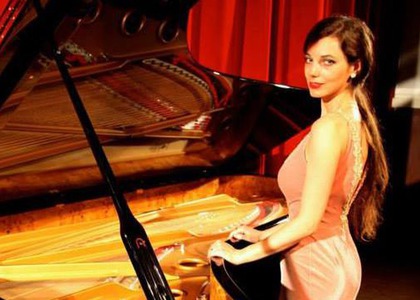 Axia Marinescu's Recital at the Brancoveanu Palace in Mogosoaia
Monday, 29 October 2018 , ora 8.57

The Cultural Center "The Brâncoveneºti Palaces from the Gates of Bucharest" invites you to attend the Romanian pianist, Axia Marinescu's recital at Sala Scoarțelor on Sunday, October 28th, 2018, from 5 p.m.
Axia Marinescu is a laureate of several national and international music competitions. Opera Magazine, a Paris based publication, describes her as "a charismatic pianist whose light touch is diverse and colourful", but also as "an artist with the temperament of a true soloist" (Theodore Paraschivesco). The pianist began her career at the age of 11, alongside the National Radio Orchestra in Bucharest on the stage of the Romanian Athenaeum.
Residing in Paris since her studies, Axia Marinescu has performed recitals and concerts with orchestras all over Europe and Asia, and has been invited to perform at prestigious piano festivals: Piano en Valois, L'esprit du Piano, Piano Classica etc. Recently, Marinescu went on a tour of concerts and master classes in China as part of the legendary French festival Piano aux Jacobins. On this tour, the pianist became the face of the historical piano brand, Pleyel, in China.
In September 2018, Axia Marinescu released the album Introspections under Parisian record label Polymnie. The album includes works by Mozart, Brahms and Debussy. The disc received critical acclaim and was broadcast by the main French radio stations.
Axia Marinescu began studying piano at the George Enescu Music School in Bucharest under the direction of Mrs. Ileana Busuioc. She went on to study at the Conservatory of Lausanne (where she was admitted at the age of 17 directly into the Masters program), then the École Normale de Musique in Paris and the Royal Conservatory in Brussels. She graduated "magna cum laude" from the latter. Axia Marinescu was mentored by famous pedagogues and pianists: Jacques Rouvier, Jean-Claude Vanden Eynden, Réna Shereshevskaya, Théodor Paraskivesco, Dominique Cornil, Gabriel Teclu, etc.
Her repertoire includes a wide range of musical works, from Rameau and Bach, to contemporary music, which she has performed on many occasions, including many debuting pieces. The pianist also performs chamber music with musicians like Leontina Vaduva, Viorica Cortez, the Enesco Quartet, Romain Zante, among others.
Her constant curiosity and openness to beauty led Axia Marinescu to the study of philosophy. The pianist has a degree in philosophy from the University of Paris and has published essays and articles in Romania, France and Germany in recent years.
Axa Marinescu is a TED speaker and is fluent in 5 foreign languages.
The Cultural Center "The Brâncoveanu Palaces from the Gates of Bucharest" Mogoºoaia is an institution subordinated to the City Hall of Bucharest.
Site: www.palatebrancovenesti.ro
Facebook: Centrul de Culturã "Palatele Brâncovenești de la Porțile Bucureștiului"

Translated by Proca Florin, MTTLC AN II