> [Archived] Events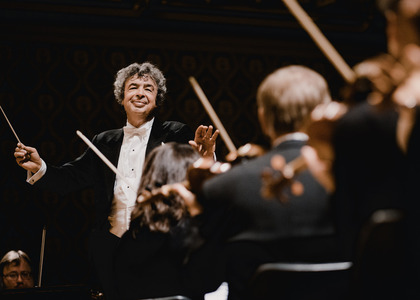 Semyon Bychkov and the Czech Philharmonic Orchestra - Live from London on Wednesday, 24th of October at 9.30 pm.
Monday, 29 October 2018 , ora 9.16

The Czech Philharmonic celebrates the 100th anniversary of the independence of the Czech Republic and Slovakia in a large tour beginning in London (October 24th) and continuing in the US - New York (October 27th), Washington (October 29th), Chicago (November 4th), San Francisco (November 11th) - these being the most important artistic centres in a much longer list. Afterwards, the Czech ensemble will return to Europe to perform at Musikverein in Vienna (24, 26, 27th of November). It is a true tour de force, which can only be exemplary of the year in which we Romanians celebrate the Centenary of the Great Union.
We invite you to tune into Radio Romania Muzical's live broadcast of the concert hosted by the Royal Academy of Music in London, the tickets to which have been completely sold out. The event attracted the public's attention thanks to the quality of the performers who take part in it - the conductor, the soloist and the orchestra - as well as the program for the evening, impregnated by a profound Czech spirit, with two extensive and representative works by Antonin Dvorak, who conducted the first concert of the Prague Philharmonic 123 years ago.
The finest Czech orchestra will make its international debut in a tour with Semyon Bychkov - the principal conductor and artistic director of the ensemble, a role he assumed in the current season. "The Czech Philharmonic is among the few orchestras that have managed to preserve their unique identity through the authenticity of their expression and sound, in an increasingly globalized and uniform world." - says the Russian conductor, whose career is marked by stints at "Orchestre de Paris", the Koln Symphony Orchestra and the Semperoper Dresden, as well as other spectacular performances at the forefront of some of the greatest orchestras in the world.
The soloist of the tour is the young cellist Alisa Weilerstein, one of the leading musicians of her generation, a passionate and vibrant musician, "the most important cellist that America gave to the world since Yo Yo Ma", with best-selling records, frequently played at our station. Live from London, we will listen to her rendition of Concerto in B minor, Op. 104 by Antonin Dvorak, an emblematic score among the romantic masterpieces, with a unique and captivating melody. Equally appealing is the Symphony No.7 in D minor, Op. 70 by Dvorak, which excels in its powerful, overwhelming, even tragic dramatic nature, a distinct opus in the context of the great Czech's nine symphonies. So there are many reasons to listen to our London broadcast, which will open with the wonderful Overture of "The Bartered Bride" by Bedrich Smetana.
Monica Cengher
Translated by Proca Florin, 2nd year , MTTLC