> [Archived] Events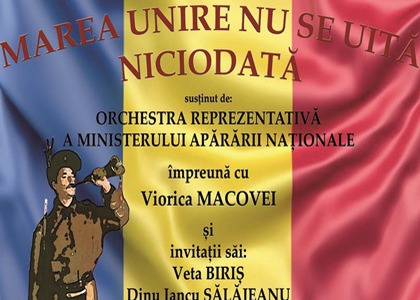 "Never Forget: The Great Union" – extraordinary concert dedicated to the 100th Anniversary of the Great Union
Monday, 5 November 2018 , ora 9.15

The Representative Orchestra of the Ministry of National Defence, in collaboration with the Romanian Broadcasting Society - Radio Romania Muzical and the Department of Musical Ensembles - will organize an extraordinary concert on November 10, 2018, starting from 19.00, at the Radio Hall, dedicated to the 100th Anniversary of the Great Union. The concert is called "Never Forget: The Great Union".
This prestigious jubilee concert, featuring an artistic programme fit to honour the achievement of national unity, will be performed by musicians of the Representative Orchestra of the Ministry of National Defence, under the baton of conductors Colonel Aurel Gheorghiță (Chief of Military Music Service and Superintendent of the Military Musicians) and Colonel Liviu Voicu. Soloists will be top names of the Romanian musical scene, such as Viorica Macovei, Veta Biriș, Dinu Iancu Sălăjeanu, Gelu Voicu, Mădălina Lupu.
The Military Music Service and the Joint Logistics Headquarters will be the partners of this cultural and artistic event.
The programme features original works and arrangements by composers Ionel Croitoru, Dumitru Eremia, Ionel Banu, Gheorghe Hutu, Alexandru Butnariu.

Translated by George Arion, MTTLC 2, Universitatea București