> [Archived] Events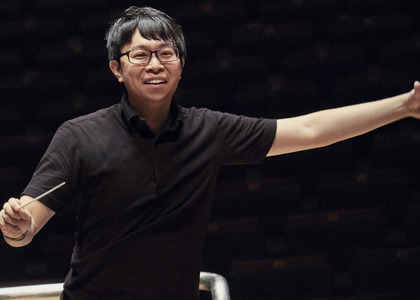 Kahchun Wong, prize winner at the Gustav Mahler Conducting Competition, will be on the conducting podium at Sala Radio!
Monday, 12 November 2018 , ora 10.08

32-year-old Kahchun Wong was born in Singapore to a Chinese family, and he is the first Asian musician to have won the Gustav Mahler Conducting Competition (held in 2016, Germany). On Friday, November 9th, he will conduct at Sala Radio, Bucharest. Since his debut in March 2015 with the Singapore Symphony Orchestra, he has conducted prestigious orchestras all over the world: Los Angeles Philharmonic, Berlin Konzerthaus Orchestra and Sankt Petersburg Symphony Orchestra. This autumn he has become the main conductor of the Nuremberg Symphony Orchestra.
Kahchun Wong will be on the podium at Sala Radio, conducting the National Radio Orchestra where another special guest will be performing: the Polish pianist Pawel Kowalski who has played all over the world on prestigious stages such as Warsaw's National Philharmonic, Paris' Salle Pleyel, Zurich's Tonhalle, Berlin's Konzerthaus, Valencia's Palau de la Musica and so on. In Bucharest, Pawel Kowalski will be performing Concerto No. 2 for Piano and Orchestra, written by Chopin when he was only 20 years old. The concerto debuted in Warsaw in 1830, with Chopin himself performing as a soloist.
Also featured: Alfred Alessandro's Autumn Twilight and Vasili Kalinnikov's Symphony No. 1. The event is organized in collaboration with the Polish Institute in Bucharest.
After winning the Gustav Mahler Conducting Competition (in 2016), Kahchun Wong was invited by the famous conductor Gustavo Dudamel (who won the competition himself in 2004) to conduct the Los Angeles Philharmonic in the 2016/2017 session. He has conducted Asian orchestras such as China Philharmonic, Shanghai Symphony, Tokyo Philharmonic, Tokyo Symphony, New Japan Philharmonic, Osaka Symphony, Hiroshima Symphony and others. His 2019 agenda includes numerous collaborations with the world's most prestigious orchestras: in February, he will be conducting the New York Philharmonic, followed by Royal Liverpool Philharmonic, German Radio Philharmonic Orchestra, Moscow State Symphony, Hamburger Symphoniker, Orchestre Nationale du Capitole de Toulouse etc.
Pawel Kowalski debuted in Warsaw with a concerto for piano, freshly composed by Witold Lutoslawski. Witold himself conducted the concerto. With the help of Lutoslawski, who granted him a scholarship, the Polish pianist could afford to study music in Koln, Warsaw and Vancouver. His repertoire is extensive and diverse, containing pieces by Mozart, Beethoven, Chopin, Brahms, Paderewski, Ravel, Rachmaninoff, Gershwin and many more, but also chamber music and jazz. His popularity grew after participating as a judge in the Chopin International Piano Competition, which aired on the Polish Public Television in Warsaw (2015).

Translated by Ivan Alexandra Simona,
MTTLC, 1st year