> [Archived] Events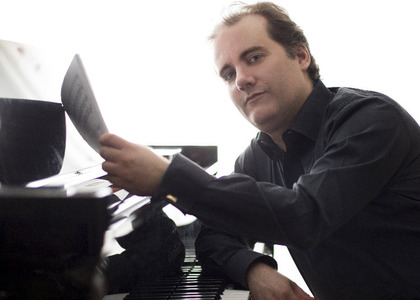 The pianist JOSU DE SOLAUN, prize winner at the 'George Enescu' International Competition, on the Sala Radio stage!
Tuesday, 13 November 2018 , ora 9.41

Wednesday, November 14th (at 7 p.m.), the Romanian audience will be able to listen to the performance of Spanish pianist JOSU DE SOLAUN, who won first place at the "George Enescu" International Competition in 2014, an extraordinary prize also won by legendary pianists such as Radu Lupu, Elisabeth Leonskaja and Dmitri Alexeev. The Radio Chamber Orchestra will perform at this event, conducted by CONSTANTIN GRIGORE, main conductor of the Royal Camerata Orchestra.
Josu de Solaun, the only Spanish pianist who won both the "George Enescu" International Competition and the fifteenth "José Iturbi" International Piano Competition, which took place in Prague, will perform Beethoven's Piano Concerto No. 3 in C minor at Sala Radio. Beethoven's concerto premiered in April 1803 with Beethoven himself as the soloist, the composition being inspired by Mozart's Piano Concerto No. 24.
During the second part of the event, Beethoven's Symphony No. 7 in A major will be performed. The symphony premiered in Vienna, on December 8th 1813, conducted by Beethoven at a charity event for the soldiers injured at the battle of Hanau (in which Napoleon's army also fought). The current concert will also include Romanian composer Dan Dediu's composition, Elegia minacciosa.
During his studies, first in Romania, then in Poland at the "Karol Lipinski" Music Academy, the conductor CONSTANTIN GRIGORE was mentored by renowned masters of conducting. He conducted important orchestras, both in Romania (the "George Enescu" Philharmonic Orchestra, the Romanian Youth Orchestra, the Radio Chamber Orchestra, the National Radio Orchestra, the "Moldova" Philharmonic from Iași, the "Banatul" Philharmonic from Timișoara, and many more), and abroad (in Poland: the "R-20" Chamber Orchestra from Wroclaw, the Kielce Philharmonic Orchestra, the Rzeszow Philharmonic Orchestra, and so on). During the Easter holidays in 2009 he conducted the Bucharest Symphonic Pops, in an extraordinary concert by Al Bano and Montserrat Caballé in Piața Constituției in Bucharest. In 2013, during Steve Vai's tour in Russia, Poland, Italy, Spain, and Romania, he was chosen to conduct the Evolution Orchestra. In 2017 he was invited to conduct the Liège Royal Philharmonic Orchestra (in Belgium) for 7 concerts in Liège (the Philharmonic Hall), Bruxelles (Bozar), Ath, Ottignes and Namur.
JOSU DE SOLAUN has been invited to perform in remarkable concerts all over the world, some of these events took place in Venice (Teatro La Fenice), Sankt Petersburg (Mariinsky Theatre), Washington, DC (Kennedy Center), New York (Carnegie Hall, Metropolitan Opera), Princeton (Taplin Hall), London (Southbank Center), Paris (Salle Cortot), Leipzig (Schumann Haus), Taipei City (Novel Hall), Mexico City (Sala Silvestre Revueltas), Prague (Nostitz Palace), Rome (Academia de España), Menton (Festival International de Musique) and in all big cities in Spain. He recorded all of George Enescu's piano compositions and Stravinsky's Les Noces with a NAXOS Grand Piano, having Joann Falletta as the conductor.
You can listen to the concerts live on all Radio România Cultural and Radio România Muzical frequencies and on www.radioromaniacultural.ro and www.romania-muzical.ro.
Tickets for Radio Orchestra and Choir concerts are available on www.bilete.ro, at any Romanian Post Office, in Inmedio shops with the bilete.ro sign and at the ticket office of Sala Radio.
For additional information on the Radio Orchestra and Choir please visit: www.orchestreradio.ro.

Translated by Alina-Nicoleta Duminică,
MTTLC 1, Universitatea din București