> [Archived] Events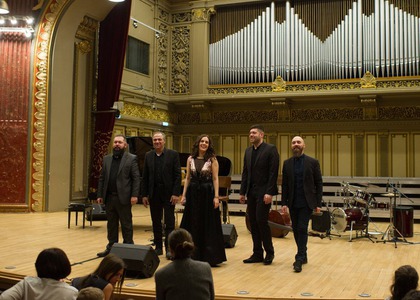 A new jazz lesson in the project Classic Is Fantastic - "How to Understand Music". Let's sing to Santa in jazz rhythms
Monday, 3 December 2018 , ora 14.54

"How to Understand Music" has become a tradition, and is one of the audience's favourite programs in the musical education project Classic Is Fantastic. "How to Understand Music" offers once again, at the beginning of December, a glimpse into the wonderful world of jazz, full of seasonal songs performed by the boldest musicians. The program includes winter and holidays songs, in an original and brisk tempo, colours of the Aurora Borealis and explosive rhythms.
Saturday December 8th, at 10 and 12.30 a.m., at the Romanian Athenaeum

Classic is fantastic - "How to Understand Music"

Let's sing to Santa in the rhythm of jazz
Irina Sirbu - voice
Sebastian Burneci - trumpet
Puiu Pascu - piano
Ciprian Parghel - contrabass
Tudor Parghel- drums
The program includes works by Jose Feliciano's, James Lord Pierpont, and carols from Romanian and international repertoire.

Translated by Badea Ștefan Alexandru, 2nd year, MTTLC