> [Archived] Events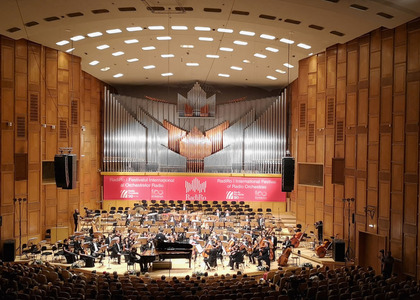 The Romanian Centenary at Sala Radio: Horia Andreescu Conducts Enescu and Ciprian Porumbescu
Tuesday, 4 December 2018 , ora 10.12

Under the baton of the appreciated conductor HORIA ANDREESCU, The National Radio Orchestra will perform an authentic Romanian program, specially chosen for the centenary event. The evening will begin with Suite roumaine by George Enescu. Then, you will listen to Seven songs to the lyrics of Clement Marot, also composed by the great Romanian composer (orchestration: Th. Grigoriu), featuring the soprano IRINA IORDĂCHESCU.
Accustomed to the two famous Rhapsodies by Enescu, the audience at Sala Radio will have the chance to listen to a beautiful score, rarely performed on stage: The Romanian Rhapsody by Ciprian Porumbescu, which captures the specifics of the Romanian spirit with extraordinary sensitivity. This extraordinary concert includes fragments from the soundtrack of the movie "Mihai the Brave" (1971, directed by Sergiu Nicolaescu), a suite by Tiberiu Olah and Three Romanian Dances by composer Theodor Rogalski. The event will take place with participation of the Radio Academic Choir (conductor: CIPRIAN ȚUȚU).
During the break, the Radio Chamber Publishing House will mark the anniversary of the Great Union Centenary by releasing two musical albums:
- Romania Centenary - a CD that contains recordings from the Radio Romania Record Library, an emblematic selection for this establishment, Radio Romania trademark;
- The Union Songs - an album with patriotic Romanian songs - like " What I Wish You, Sweet Romanian Land!" ("Ce-ți doresc eu ție, dulce Românie!"), " On our flag it's written Union"("Pe-al nostru steag e scris Unire"), "Romanian troops, cross The Carpathian Mountains!" ("Treceți, batalioane române, Carpații!") - recently recorded by the Radio Academic Choir (conductor: CIPRIAN ȚUȚU).
Cristina Comandașu, the Radio Romania Musical manager, will also be present at the event.
The Centenary concert at the Radio Chamber will close a month of amazing events, starting with the November 1st concert celebrating 90 years of Radio Romania, and continuing with the RadiRo Festival (4th edition), the only festival in the world dedicated to radio orchestras.

Translated by Filipov Madalina, MTTLC, 2nd year