> [Archived] Events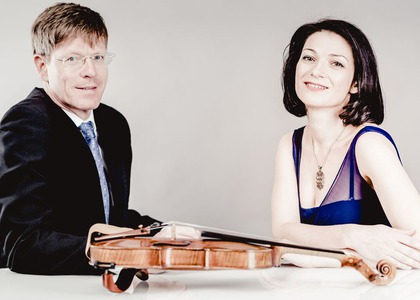 Vienna Meets Romania - Double event in Timișoara
Monday, 10 December 2018 , ora 9.58

Volkhard Steude, concertmaster of the Vienna Philharmonic Orchestra and the pianist Cătălina Butcaru come back to Timișoara in a double event featuring sonatas by Mozart, Schumann and Grieg on the stage of the Banatul Philharmonic Orchestra (December 11th, at 7 p.m., Sala Capitol), as well as master classes (on the 10th and the 11th of December). This is part of a larger event, taking place over five years, called Vienna Meets Romania, which facilitates a collaboration between Romanian musicians or music students with the members of the Vienna Philharmonic Orchestra, through master classes, practice sessions, concerts and performances. The project will end in 2021 when Timișoara will be the European Capital of Culture, with the support of BCR and the Austrian-Romanian Society in Vienna.
The concert program is enticing, including some less frequently performed pieces:
Cătălina Butcaru: "We made a program we hope will spark the interest of music lovers. We decided to bring some pieces that may not be that popular, but are still beautiful and challenging: Mozart's Sonata for Violin and Piano No. 27 in G major, K. 379 is one of the most beautiful and original sonatas for these instruments. Grieg's Violin Sonata No.2, op.13, rarely performed, is considered the most "Norwegian" piece by this composer. We will end our performance with a long piece, almost as long as a symphony, a very spectacular, emotionally profound piece: Schumann's Violin Sonata No. 2 in D Minor, op. 121.
Volkhard Steude, who has served as the concertmaster of the Vienna Philharmonic Orchestrasince 2000, plays on an Antonius Stradivarius violin from 1714 (ex Smith-Querson), lent to him by the National Bank of Austria.
He will share his experience in the prestigious Austrian institution with the students during his master classes. The classes will take place in Sala Ion Vidu at the Music High School in Timișoara, on the 10th and the 11th of December, between 10 a.m. and 2 p.m., and at the Banatul Philharmonic, on the 10th of December, between 4 p.m. and 8 p.m.. Admission is free.
"I want to discuss with the future musicians how a certain sound is created for such an ensemble, what practice is like at this level, how to make practice more efficient for orchestra, string quartet and so on. Of course, if they are interested, I will be happy to share details about the other side of the orchestra, how decisions are made, how musicians are selected, maybe some aspects about mentality and habits, which will help them when they perform on a stage, in an ensemble or as soloists." (Volkhard Steude)
As soloist, together with the Vienna Philharmonic Orchestra, he performed in concerts conducted by renowned conductors such as Giuseppe Sinopoli, Daniel Barenboim and Tugan Sokhiev. His tours in Europe and Japan, his impressive discography, shape the career of a great musician who will now perform for the Romanian audience.
Constanta born pianist Cătălina Butcaru who now lives in Vienna, was only 16 when she was accepted to the Conservatory in Vienna, where she received soloist her diploma. She made her solo debut in London in 2006. Two years later, she released her first solo album, recorded by Wigmore Hall in London. The album, which includes pieces by A. Berg, M. Ravel and R. Schumann received enthusiastic reviews from international critics and was played by the Austrian Radio. The renowned music critic D.C.F. Wright wrote in his chronicle: "This is a must-have CD. It is the best piano playing I have heard in many years." Since 2000, Cătălina Butcaru has been performing in Austria, Italy, the U.K., Germany, France, Spain, Luxembourg, Hungary, the Netherlands, Turkey, Bulgaria and Romania.

Translated by Alina-Nicoleta Duminică,
MTTLC 1, Universitatea din București