> [Archived] Events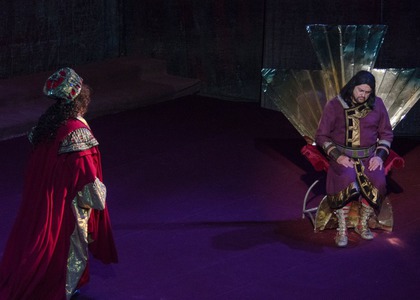 Alberto Veronesi, invited to take the conductor's podium for ΄Nabucco΄, at the Bucharest National Opera
Wednesday, 19 December 2018 , ora 11.06

The Romanian National Opera presents ΄Nabucco΄ by Giuseppe Verdi, on the 15th of December, 2018, at 6:30 p.m., directed by Hero Lupescu, scenography by George Doroșenco, choreography by Doina Andronache, assistant director Cristina Costescu, choirmaster Daniel Jinga. At the conductor's podium - guest maestro Mihnea Ignat .
΄Nabucco΄ by Giuseppe Verdi is one of the longest-running creations in the history of the Bucharest National Opera. In this production, the late director Hero Lupescu, one of the most appreciated showrunners of Romanian lyrical theatre, accustomed to working with big choirs, succeeded in giving the Chorus a special touch, transforming it into a single character, just like its role used to be perceived in the theatre in ancient times. The Choir in this rendition,representing the voice of the enslaved people, moves in the same way, as one being, and has the same aspirations and feelings like any other single character. On the other hand, vocalists as the representatives of ideas conveyed in opera are, mostly, motionless, like an imposing statue, a reciting mask, or even a sentient machine. The scenography, created by George Doroșenco, even though made of decorative elements that are simple, yet great, expresses the main character's megalomania, the one of the frightening king Nebuchadnezzar.
The opera's premiere on the stage of the Bucharest National Opera in October, 1987, was a revolutionary act by the artists of that time, and it managed to transcend time, having been in the repertory for over 30 years.

Translated by Nițu Diana-Alexandra,
MTTLC 2, Faculty of Foreign Languages and Literatures, University of Bucharest