> [Archived] Events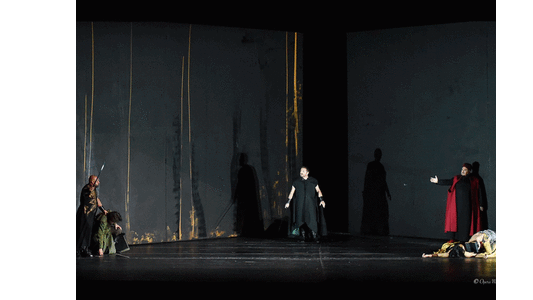 'Othello', directed by Giancarlo del Monaco, on the stage of the Bucharest National Opera House, in February
Monday, 25 February 2019 , ora 10.44

The Romanian National Opera House presents on Friday, the 22nd of February, starting at 6:30 p.m., 'Othello', by Giuseppe Verdi. Direction, stage design and lights by master Giancarlo del Monaco; costumes designed by Stella del Monaco. Conductor: Tiberiu Soare. Choirmaster: Daniel Jinga.
The Verdian creation was a perfect artful mixture of drama and music. Throughout the centuries, 'Othello' proved to be a masterpiece, standing out not only due to its philosophical symbols, but also thanks to the moving, powerful feelings of the characters, theatrically speaking.
Stage director Giancarlo del Monaco, about setting-up on the stage of the Romanian National Opera House in Bucharest: 'I'm doing a minimalistic scenography research, in which spaces are no longer defined by primitive realism representing Cyprus, which can also represent Venice and so on; this research aims to sublimate and erect itself in the hearts of the characters, a thing that is more important than retelling a story. It's important that we tell stories that are real, human, some really difficult, like jealousy, racism, good and evil... For example, the conflict between evil and good is, in fact, the conflict between Desdemona and Iago, right? Othello is a victim, a victim of evil; even Desdemona is a victim of evil, but the conflict between good and evil is represented by Iago-Desdemona. In this fight, I want to focus the audience's attention on the action and on the drama. Actually, on the psycho-drama of this story.'
Tickets can be purchased online, on tickets.operanb.ro and at the box office of the Romanian National Opera House (Monday-Sunday, 10 a.m. -1 p.m. and 2 p.m.-7 p.m.).
The next performance is on Saturday, the 23rd of March, at 6:30 p.m.
Official sponsor: Enel Romania
Sponsors: Aqua Carpatica, Zarea, Leonidas
Partners: Artmark, Agapitos Pastry Shop, Sansha
Long-time partner: RFI Romania
Media Partners: Radio România Cultural, Radio România Muzical, Romantic FM, Gold FM, Radio Seven, Observator Cultural, Metropolis Newspaper, Marea Dragoste, News.ro, Agerpres, Ziare.com, Business24, Raftul cu Idei.

Translated by Nițu Diana-Alexandra,
MTTLC 2nd year, University of Bucharest