> [Archived] Events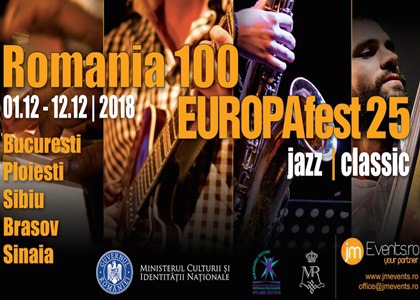 EUROPAfest – Bucharest International Jazz Competition. Bucharest, the global capital of jazz
Thursday, 28 March 2019 , ora 13.24

EUROPAfest - Bucharest International Jazz Competition, rated by BBC as one of the top three jazz contests in Europe, earned its place among world-renowned jazz events. It is appreciated by its listeners, artists, but also critics.
For 13 years the festival has been promoting a variety of jazz styles, new generation artists as well as projects by internationally recognized jazz centres. Thanks to its prominent identity that manifests in an autochthone cultural context, BIJC's audience grows every year.
Between the 11th and 18th of May, under the slogan "100% jazz", this event will be hosting concerts, workshops and jam sessions with artists from different cultural backgrounds who also have prestigious and international events and competitions in their portfolio.
There will also be a jazz contest, in the semi-final of which 16 bands from 13 countries will be participating and competing for the Grand Prize. The artists will be performing in groups (quintet, quartet, trio and duo), demonstrating the newest jazz trends from Australia, Azerbaijan, Bulgaria, France, Germany, Italy, Japan, Luxembourg, Poland, Russia, Turkey, U.S.A. and Ukraine.
The band audition and selection was done by specialists who took into account the applicants' artistic skill as well as the audience's preferences. More information about the artists will be published on www.bucharestjazz.ro.
For eight days, Bucharest becomes the international capital of jazz, offering music enthusiasts memorable evenings on original rhythms, bold ideas and surprising combinations.
Anyone who loves jazz or wants to discover it is invited to EUROPAfest - Bucharest International Jazz Competition, hosted by jmEvents. Apart from the authentic, high-spirited jazz concerts, you have the chance to vote for your favourite band to make it into the finals.
Under the slogan "It's all about live quality music!", EUROPAfest, which is the only European festival to bring four musical genres (jazz, blues, pop, classical) together, presents between 9th and 18th of May over 250 artists from 35 countries. Besides the Bucharest International Jazz Competition, the festival's agenda also includes the Opening Gala Concert, jazz, blues, pop and classical music concerts, Jeunesses International Music Competition Dinu Lipatti, master classes and workshops, Caffe Festival, Festival's corner and The EUROPAfest Gala.

Translated by Alexandra Simona Ivan,
MTTLC, 1st year, University of Bucharest