> [Archived] Events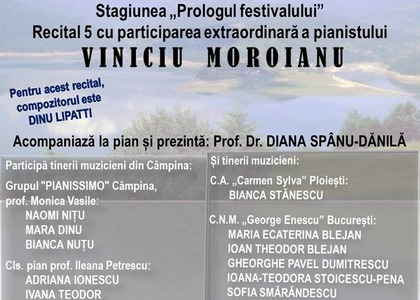 The 'Prologue of the Festival' series and Recital 5, with the participation of extraordinary pianist Viniciu Moroianu
Thursday, 28 March 2019 , ora 13.46

On July 3-13, 2019, the Câmpina Art Festival will take place, event which will hold masterclasses for young instrumentalists and daily recitals. As a preamble of this festival, the organizers propose a monthly recital series at Câmpina, named 'Prologue to the Festival'. Their aim of this festival is to meet great artists and introduce some Romanian composers to the public in the category 'Let's Get to Know Our Composers'. The fifth recital of the season will be held on Saturday, the 16th of March, starting at 5 p. m, at Geo Bogza Culture House. The event will be held with the participation of extraordinary pianist Viniciu Moroianu, Univ. Prof. Dr., one of the most well known and appreciated interpreters of Dinu Lipatti's music, to whom this recital is dedicated.
Dinu Lipatti was born on the 19th of March, 1917 in Bucharest and died on the 2nd of December, 1950, in Geneva. The recital on the 16th of March marks 102 years since the birth of one of the most important pianists of the 20th century. The event will include performances by some young musicians from Bucharest, Ploiești and Câmpina, as well as from the National University of Music in Bucharest.
Tickets are available on www.bilete.ro, on https://www.bilete.ro/prologul-festivalului/. Free entry for those above 60 and under 16 years of age.

Translated by Nițu Diana-Alexandra,
MTTLC, 2nd year, University of Bucharest