> [Archived] Events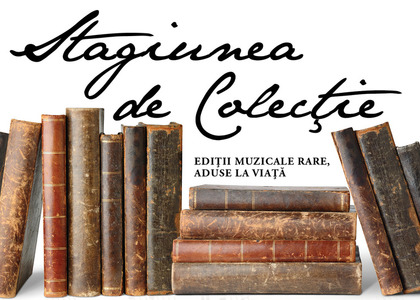 Romanian jazzy sounds at the National Library of Romania
Friday, 5 April 2019 , ora 10.39

The third edition of the Collection Season continues at the National Library of Romania (Bd. Unirii nr. 22), as part of the ambitious project '100 years in 100 concerts' organized by the Romanian Musicians' Union of Interpretative Creation supported by the City Hall of District 1, Bucharest, via Cultural Center of District 1.
For the first time this season, the audience is invited to enjoy the fascinating sound world of jazzy harmonies and improvisations. The event will take place on Monday, 25 February 2019, at 5:30 pm, featuring vocalist Marta Popovici and the On the Fly band.
Among the documents displayed in the adjacent exhibition of historically significant sheet music, the most notable is: 22 Jazz Themes by Johnny Răducanu, published by the Music Publishing House (Edtura Muzicală), in 1984, with a quote by Nichita Stănesci and his autograph. Other scores that can be found in the exhibition: Jocul țambalelor (Game of Cymbals), Cenad Blues and La Viziru.
The volume "Utwory Jazzowe na Fortepian" (Jazz piano melodies), published in 1963 by Polskie Wydawnictwo Muzyczne (The Polish Music Publishing House), brings to the forefront the works of four Polish jazz instrumentalists and composers: saxophonist and pianist Wojciech Karolak, composer and pianist Krzysztof Sadowski, composer and musicologist Andrzej Trzaskowski and saxophonist, pianist and composer Jan 'Ptaszyn' Wróblewski. The copyrights belong to SESAC (Society of European Stage Authors and Composers) New York.
'Jazz themes - Romanian composers' is a collection by Alexandru Șipa, with an introduction by him. This volume brings together 17 creators, great names in local jazz music, including: Johnny Răducanu, Mircea Tiberian, Marius Popp, Capriel și Garbis Dedeian, Radu Goldiș, George Natsis.
The evening will be hosted by Raluca Bucinschi and Sebastian Crăciun, who will also guide the visitors through the manuscripts, imprints and artists.
Access is free, based on availability, reservations can be made on: promovare@bibnat.ro

Translated by Andreea-Jessica Sandu, MTTLC , 2nd year, University of Bucharest