> [Archived] Events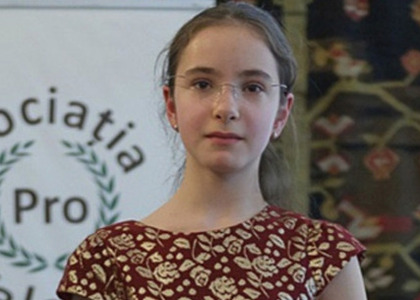 Eva Garet, a revelation among Romanian pianists, together with Alley of Winds, guests of the 'Collection Season'
Friday, 5 April 2019 , ora 10.53

The National Library of Romania (Blvd. Unirii, nr. 22), holds on Monday, the 25th of March, 2019, starting at 5:30 p.m., the last second-to-last event of this edition of the Collection Season. The audience is invited to discover the interpretative styles of six young artists who amazed the juries of national and international contests.
The protagonists of the sixth volume of the season are the 'Alley of winds' Quintet, a group of students at the National University of Music in Bucharest, and Eva Garet, the Romanian piano revelation.
The concert is included in the third season of the Collection Season, part of the ambitious project '100 years in 100 concerts' organized by the Romanian Musicians' Union of Interpretative Creation, with the aid of the Coty Hall of District 1 in Bucharest and the District 1 Cultural Centre.
The concert will feature opuses by Vasile Jianu, Didier Favre, Fridolin Dallinger, Nikolai Rimsky Korsakov, Mihail Glinka, Alexander Scriabin, George Enescu and a piece by Clara Schumann, composer and pianist born 200 years ago.
Of all the documents presented at the exposition, some stand out: the album of biographic materials of pianist Maria Szymanowska, published by Polskie Wydawnictwo Muzyczne (Polish Music Publishing House), in 1953. This album gathers the facsimile manuscripts and signatures of some great composers, including Clara Schumann - Leipzig, the 21st of November, 1848.
Lieder und Gesänge by Robert and Clara Schumann were edited in 1899 by Breitkopf & Härtel, and arranged for piano by Salomon Jadassohn. Two opuses belong to Clara Schumann (op. 13 and Op. 23), lieder by Hermann Rollet. In the volume Ludwig van Beethoven's Piano Concerto No. 4 in G Major, Clara Schumann is the author of one of the first part's cadences, along with other composers and pianists, such as Ferruccio Busoni, Arthur Rubinstein and Camille Saint-Saëns.
The evening will be hosted by Raluca Bucinschi and Sebastian Crăciun, who will also guide the visitors through the manuscripts, imprints and artists.
Free entry. Limited seats available. Register in advance on promovare@bibnat.ro

Translated by Nițu Diana-Alexandra, MTTLC, 2nd year, University of Bucharest