> [Archived] Events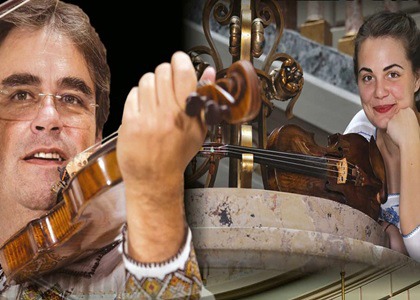 The Complete Suites for Orchestra by Bach - an ambitious project only at the Radio Hall!
Tuesday, 14 May 2019 , ora 11.19

Mozart once said of Bach: "He is the father and we are his children," and another great composer, Berlioz, also confessed: "Bach is Bach, just as God is God."
The Complete Suites for Orchestra by Bach is an ambitious project by the Radio Chamber Orchestra, presenting two concerts on Wednesday, May 8 and Wednesday, May 15, under the baton of conductor Janko Zsolt, the resident conductor of the Oradea State Philharmonic Orchestra and the Hungarian Opera House in Cluj.
Along with Bach's four Suites for Orchestra, the two events at the Radio Hall will give the audience the opportunity to get to know some of the emblematic concertos by the great German composer, performed by some of the most appreciated Romanian musicians.
So, the concert on Wednesday, May 8 (at 19:00 o'clock), will feature the well-known violinist Gabriel Croitoru on the stage of the Radio Hall. He will be playing George Enescu's famous violin! In 2008 Gabriel Croitoru obtained the right to play the Guarneri universal heritage violin - named "The Cathedral" - created in 1731 and presently curated by the George Enescu National Museum.
Joining Gabriel Croitoru, is his daughter, Simina Croitoru, a young violonist. In the evening's program we will encounter one of Bach's most famous works: the Double Concerto in D Minor, one of the most memorable scores played by Enescu and his student Yehudi Menuhin. The evening program also includes Concerto No. 2 in E major for Violin and Orchestra and the No. 1 and 2 Suites for Orchestra.

Translated by Gabriela Florea,
MTTLC, 1st year, University of Bucharest