> [Archived] Events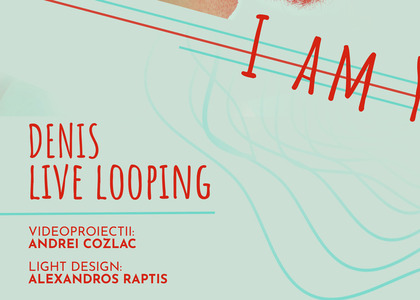 I am You – Urania Palace, Cluj
Thursday, 10 October 2019 , ora 13.55

I am You is a musical project, which came out of Denis Bolborea's dialogue with A-C Leonte. In its solo version, presented at Cluj, Denis adapts a part of their collective creations to whom he adds his personal creations. Everything is performed 100% live, using beatbox and his own voice, which is gone through a looping and effects system.
Location: Urania Palace, Cluj
Date and time: October 19th at 7 p.m
Free access.
Starting from the common desire of exploring de idea of ritual through modern techniques and technologies, the manifestation comes as a response to the needs of a society in which we witness a separation of individuals, a dissipation of community's meaning and role. Detaching themselves from the urban setting, in which the human relationships are thinned and distorted, the two artists deepened themselves in the quest of an universal language which aims to reach beyond our personal choices and our differences of spiritual orientation, having its source in an universal human depth, independent of religion and culture.
"We are interested in creating ties between the traditional and contemporary language, between the artistic manifestation of professionals and the genuineness of crude utterances, between the acoustic sound and the rich techniques of sound exploring in the electronic environment."
Performer: Denis Bolborea
Video projection: Andrei Cozlac
Light design: Alexandros Raptis
Photo-video documentation: Gabriel Durlan
Producer: Indie Box
Co-producer: POINT București
Project partners: Mihai Eminescu Trust Foundation, Fix Theatre Multimedia Centre, Matei Visniec Theatre from Suceava, John Teth Foundation for Jerusalem, SC Arts Arena SRL.

Translated by Ioana Simona Ghiță