> [Archived] Events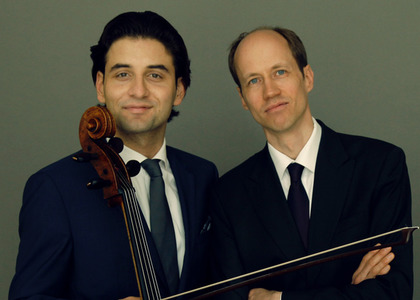 Romanian cellist Valentin Răduțiu and Swedish pianist Per Rundberg, a splendid duet at EUROPALIA
Monday, 14 October 2019 , ora 9.55

The violoncello recital of young musician Valentin Răduțiu accompanied by the well-known Swedish pianist Per Rundberg will take place on October 27 2019, from 11:00 AM at the BOZAR Palace in Brussels as part of the EUROPALIA Romania Festival. The program will include Johannes Brahms' Cello and Piano Sonata No. 1 in E Minor, Op. 38 and George Enescu's Sonata for Cello and Piano No. 2 in C Major.
As a German coming from Cluj, Valentin Răduțiu is living proof that German rigour and Transylvanian restraint are the perfect mix for success: in 2012, Valentin Răduțiu won second prize at the George Enescu International Competition in Bucharest. The Romanian artist is the first cellist to record all of George Enescu's piano and cello sonatas alongside the pianist Per Rundberg and he is appreciated in the international press for his "sparkling masculine tone, distinctive and interesting" and considered as "one of the best cellists of our time", according to Süddeutsche Zeitung.
"I am honoured by the invitation to participate in the chosen program of the 2019 EUROPALIA Festival and I am particularly happy to perform in contexts which are associated with Romanian Culture. It is with even greater joy to perform twice in EUROPALIA: I have been in the opening concert of the festival on October 1st together with the renowned RaRo-SoNoRo ensemble and also the artists Diana Kettler, Răzvan Popovici, and Erik Schumann. I'm always telling foreigners with great enthusiasm and pride about the rich activity of the Romanian cultural institutes, also spread across the world. For me, it will be the first time at BOZAR, on October 27, although I have been to Brussels many times before, says the cellist Valentin Răduțiu. I could not have imagined a concert at the Romanian edition of EUROPALIA, within the celebration of Romanian culture, without Enescu's music. I am incapable of not going overboard when it comes to Enescu and this cello sonata which I have played dozens of times and I could not feel bored for a second. It has a sublime gentleness and sophistication, it is full of emotion and feeling without ever being pathetic or sappy. One particular moment right after the slow part is my favourite moment in all violoncello sonatas. It cannot be described through words anyway. Perhaps, only through Nichita Stănescu's unwords: the crying eye of the heel. Come and listen to this concert!" is what the Romanian artist urges us to do.
Per Rundberg and Valentin Răduțiu have a productive collaboration together, after having recorded for the first time on CD the whole of Enescu's compositions for cello and piano. "I have met Per when I was about 15 or 16 years old, in Salzburg. I was a young student at the Mozarteum University. You could say that I have known him for more than half of my life. We are true friends, bonded through hundreds of hours of playing music together, at rehearsals, competitions, CD recordings, and in dozens if not hundreds of concerts which took us all over the world: sometimes in the great capitals of music, metropolises, and sometimes in isolated places, close even to the polar circle where we met people just as hungry for music as we imagined only people in Berlin or Vienna would be. As individuals, we differ from one another in many aspects, but on the stage we can feel each other with our eyes closed. We decided to record the whole of Enescu's compositions for cello and piano after my prize at the Enescu Competition. Thanks to the prize and of the extraordinary echo of this recording in the international press we were able to offer this music to many listeners for the first time", points out Valentin Răduțiu.

Translated by Dinu Alina-Maria, Universitatea București,
Facultatea de Limbi și Literaturi Străine, MTTLC, An I