> [Archived] Events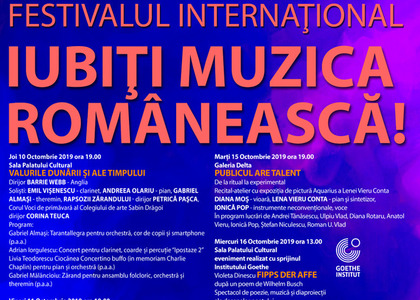 The International Festival 'Let's Love Romanian Music' – 'Romanian' -'Symphonic & Electronic Jazz'
Tuesday, 15 October 2019 , ora 9.36

The structure of the third edition of the International Festival 'Let's Love Romanian Music',a project that is co-financed by the Administration of the National Cultural Fund, is bound to attract a great diversity of auditors. At the beginning of the week, young people can have a memorable meeting with Nicolas Simion, one of the most appreciated Romanian jazz performers and composers.
"Romanian" - "Symphonic & Electronic Jazz" is the theme presented on Monday evening, on the 14th of October 2019, the fifth evening of the Festival, held on the stage of the Cultural Palace in Arad, starting at 7 p.m. On this night, the famous saxophonist will welcome pianist AntonisAnissegos (Germany / Greece), conductor MirceaHoliartoc, bassist Johnny Bota, percussionist Doru Roman, and the Chamber Orchestra of the Banat Philharmonic in Timisoara.
The concert is another brand new approach, a triple combination - jazz, folklore, contemporary music - in which there are folk-inspired compositions (Nicolas Simion), together with Romanian jazz classics, Johnny Raducanu and Richard Oschanitzky, with electronic connotations, sound processing, music containing narrative texts honoring Emil Cioran.
Monday, the 14th of October 2019, 7 p.m
Cultural Palace Hall
Romanian Symphonic&Electronic Jazz
Nicolas Simion - saxophone
AntonisAnissegos - piano, synthesizer, sound processor
MirceaHoliartoc - conductor
The Chamber Orchestra in Timișoara
Pieces by Richard Oschanitzky, Nicolas Simion, Johnny Răducanu, with narrative texts honoring Emil Cioran.

First part
Don't Be Sad - Richard Oschanitzky (quartet)
The Argument - Richard Oschanitzky
Game With The Ball - JancsyKörössy (quartet)
Mr. Monk is back in Town - Nicolas Simion
Scherzo #1 - Nicolae Coman (quartet)
Saint Nicholas - Constantin Silvestri (arrangement Nicolas Simion)

Second part
Opening Arad - Nicolas Simion
The Joke - Johnny Raducanu (quartet)
Song for Sasha - Johnny Bota
Bear Dance - Nicolas Simion
One for Charlie Mariano - Nicolas Simion (quartet)
Transylvanian Wood - Nicolas Simion

Translated by Mădălina Mangalagiu, Universitatea București,
Facultatea de Limbi și Literaturi Străine, MTTLC, an I