> [Archived] Events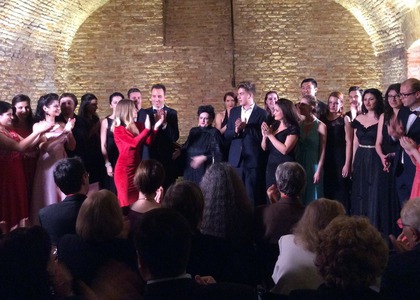 The Festival and National Competition of the Romanian Lied at the Romanian Athenaeum
Tuesday, 15 October 2019 , ora 9.46

The opening festivity and drawing lots of the participation order at the national Competition of interpretation of the Romanian lied take place on Thursday, 24th October 2019, from 18:00, followed by a recital of the young artists. The competition will take place on Friday and Saturday, 25th and 26th October. On Sunday, 27th October, at 11:00 the National Symposium is scheduled, where illustrious muscial personalities will attend: Carmen Petra-Basacopol, Octavian Lazăr Cosma, Adrian Iorgulescu, Adrian Pop, Mariana Nicolesco. On the same day, 27th October, at 19:00, the Laureate Gala and awards ceremony will take place.
"The success of George Enescu's lieder interpreted as encores in my recitals at the grand concert halls throughout the world encouraged me to undergo wide research in order to reunite as much as possible all the Enescian lieder, to interpret them and present them everywhere, as I was going to do together with my young friends, winners of the National Competition of the Romanian Lied, which I initiated, making known the splendid Enescian musical jewels in Rome, Paris and Prague, at the Universal Exhibition at Aichi in Japan, in Tokyo, in Nagoya, and in New York. The formidable success these events had represented, constituted a major stimulent for us all, composers, musicologists, interpreters, allowing us throughout the years to built a true monument of national culture dedicated to the Romanian lied - a treasure of two centuries", says the soprano Mariana Nicolescu.
"Our great mission, assumed with great dedication, has meant highlighting the creations of Romanian composers of lieder from past and present, revealing many forgotten or unknown works, while also affirming the countless young lirical talent that, submitting to the poetic and stylistcal rigours of the lied, have achieved admirable accomplishments in opera music as well. Our recitals situate the Romanian lied in the context of the European, German, French, Italian, Russian, Hungarian lied, successfuly underlining the originality and uniqueness of it, based on the olden song of longing, the eternal expression of this nation's soul," confesses the famous soprano.

Translated by Andrei Iulia-Teodora, Universitatea București,
Facultatea de Limbi și Literaturi Străine MTTLC anul 1