> [Archived] Events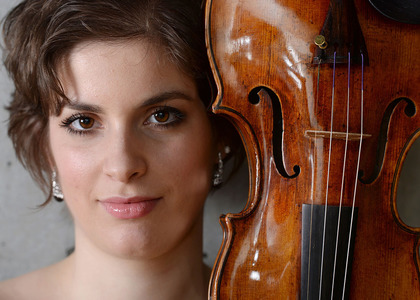 The winner of the contest "Queen Elizabeth", which has been held in Brussels, this year, Ioana Cristina Goicea, is invited at Sala Radio (Radio Hall)
Wednesday, 16 October 2019 , ora 15.56

Young Romanian musicians who have been awarded at the most important competitions and have become stars of the great concert music scenes of the world, contribute extraordinarily to Romania's image.
On Friday, October 18th , at 7 PM, the bucharestian audience will have the opportunity to listen at Sala Radio (RadioHall), the young violinist Ioana Cristina Goicea, who has been awarded this year, at just 26 years old, at the "Queen Elizabeth" competition, one of the most important gender competitions in the world and which has been held in Brussels,this year. Under the baton of Nayden Todorov, voted in Bulgaria as the Musician Of The Year in 2018 and alongside National Radio Orchestra, Ioana Cristina Goicea will perform Concerto No.1in G Minor for violin and orchestra, written by the German composer Max Bruch.
Ioana Cristina Goicea who grew up in family of Romanian musicians, has completed her studies in Germany and prides herself on having an impressive international portfolio. In 2017, she won the first prize at the prestigious violin contest "Michael Hill", in New Zealand. She also won the first prize at the international competitions "Johannes Brahms", in 2013, in Austria and at "Andrea Postacchini",in 2012,in Italy. She plays the Gianbattista Guadagnini violin (Parma, 1761), offered by the Deutsche Stiftung Musikleben - Hamburg Foundation.
The evening will begin with Hebrides Overture, the creation of another important romantic composer, Felix Mendelssohn, inspired by a journey of the composer in the British Isles, on the coast of Scotland, where there are spectacular black basalt caves, which have aroused his imagination. The concert will end with Symphony No. 4 by Brahms, the last symphony composed by him, whose absolute premiere was conducted by Brahms himself, in Germany, in 1885.

Translated by Oprea Ana Maria, Universitatea București,
Facultatea de Limbi și Literaturi Străine, MTTLC, anul I