> [Archived] Events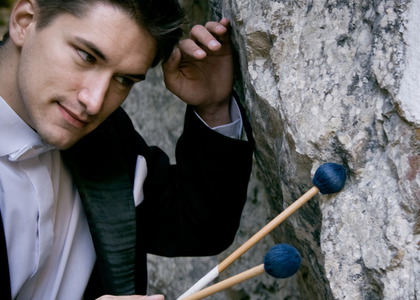 Unique concert at Radio Hall: Alexandru Anastasiu plays the marimba and the vibraphone
Wednesday, 23 October 2019 , ora 15.03

Have you ever listened to a percussion concerto, percussion instruments being considered the oldest musical instruments on Earth, except the human voice?
Friday, October 25 (7 p.m.), at Radio Hall, you have the opportunity to be part of such a special artistic meeting, with the participation of the Portuguese conductor PEDRO CARNEIRO and one of the most renown young Romanian musicians: ALEXANDRU ANASTASIU. Together with the National Radio Orchestra, Alexandru Anastasiu will play on two percussion instruments - the vibraphone and the marimba - an original composition titled The Seasons. In the second part of the evening at Radio Hall, you will listen to SCHUBERT's Symphony No. 6.
A complex musician - percussion interpreter, conductor and composer - PEDRO CARNEIRO is the co-founder and artistic director of the Portuguese Chamber Orchestra and one of the few percussionists in the world who managed to build an international career, with events in Europe, Asia, and the USA. Pedro Carneiro has influenced the music scene worldwide, being the inventor of plenty of accessories for percussion instruments, used today by musicians from all around the world. He has performed the premiere for more than 100 pieces and many composers have created especially for him.
ALEXANDRU ANASTASIU initiated unique projects, being the one in charge of the artistic organization of the first vibraphone festival in the world (2012), but also of the International Percussion Festival in 2014, both during the Radio Hall season. Ever since 2013, the prestigious company Mike Balter in the United States has been producing batons with the "Alexandru Anastasiu" hallmark.
During the concerto break, Casa Radio Publishing House reunites the soloist of the evening, Alexandru Anastasiu, with his audience in an autograph session held in the central lobby of the Radio Hall. The autographs will be signed on the "Alexandru Anastasiu. The Seasons" CD, published by Casa Radio. The album comprises the artists' creations and opens with the piece The Seasons, also played on the October 25 concerto.
Born in Lisbon, in a family of artists, PEDRO CARNEIRO begun studying piano, followed by the cello and the trumpet, only to be mesmerized by the diversity of the percussion instruments. He was admitted to the percussion class at the National Conservatory of Lisbon at only 12 years old! He then finished his studies in London and Milan. He played and recorded with prestigious musical ensembles, such as Los Angeles Philharmonic, Helsinki Philharmonic, English Chamber Orchestra, Vienna Chamber Orchestra, Swedish Chamber Orchestra, and Leipzig Radio Symphony. Moreover, he is the co-founder of the Portuguese National Youth Orchestra.

Translated by Zamfir Lavinia Corina, Universitatea București,
Facultatea de Limbi și Literaturi Străine Anul I master - MTTLC