> [Archived] Events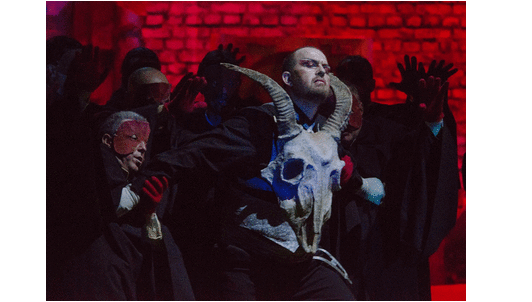 "Faust" – the imposing opera by Charles Gounod, in October on the stage of the Bucharest National Opera
Thursday, 24 October 2019 , ora 14.29

The Bucharest National Opera presents on Saturday, October 26, starting at 5:00 pm the show "Faust" by Charles Gounod. Directed by Alexandru Tocilescu, the scenography was created by Cătălin Ionescu Arbore, the choreography by Alexa Mezincescu, and the scenic movement by Roxana Colceag. Choir teacher Daniel Jinga. Tiberiu Soare will be the conductor.
The legend of Faust, the one that has appeared in the Middle Ages, is German in atmosphere and in its spirit. It deals with the subject of the sinner who, for an earthly purpose, makes a pact with the devil. From the first writing that became famous on this subject, the hero is atactless and a vulgar person. Then, with the reform of Martin Luther, the legend got some anti-Catholic influences. The sentimental temperament of the composer Charles Gounod took from the masterpiece of Goethe the subject, but printed new features, thus departing from the significance of the German poem. The characters of the composer feel more than they think, they are personifications of feelings, not of ideas or aspirations. Faust is a poor old man, tormented by the desire to obtain love. He uses the pact with the devil to enjoy again pleasure, through youth. On the other hand, Faust is not even the main protagonist, but just a cause of the drama, whose heroine is Margareta. Librettists, Jules Barbier and Michel Carre understood to gather all or almost all the scenes of Goethe's poem that refers to Margarita's love in a synthesis. To these scenes, they added a new, lyrical character, Siebel.
Through "Faust", Charles Gounod manages to impose a new kind of opera, practiced especially in France, called "Grand opera". He also introduces in the opera an entertainment, a fragment of ballet introduced in the opera, "The Night of Valpuria", which has become a pretext for the thematic synthesis of a fantastic journey into the world of darkness, illusions and symbols. The inclusion of the choreographic picture has only increased the fame of this work, as it adds an extra spectacle and at the same time facilitates the public's access to a hermetic problem in Goethe's vision.
Tickets can be found on http://tickets.operanb.ro/ and at the ticket office of the Bucharest National Opera (schedule Monday - Sunday between 10am - 1pm and 2pm - 7pm).

Translated by Gabriela Florea, Universitatea din Bucuresti,
Facultatea de Limbi și Literaturi Străine, MTTLC Anul II