> [Archived] Events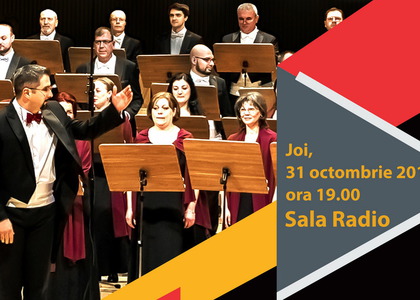 Famous choirs from opera, at Sala Radio
Monday, 28 October 2019 , ora 10.42

The opera is an entire universe. If today the opera scares sometimes young spectators who are afraid of an old-fashioned genre for no reason, the opera has been- by the time Verdi and Puccini were composing- as modern as pop or hip-hop are today! It was by far the most "fashionable" habit of spending free time. A lot of books have been written about the social behavior at opera. The lyric theatre was the most important place in town where you had to be seen and where, most of the time, "the performance" from the lobbies and the boxes was more important than the performance on stage!
The creations written by the greatest composers (Verdi, Puccini, Wagner, Donizetti, Mozart, Rossini, Bizet etc.), the social "stage" created by the lyrical genre for centuries, and, last but not least, the buildings of the opera house which are like "jewelry" everywhere in the world create a world at least fascinating. Impressive voices, grand decorations, shiny costumes, music full of emotion and a story based on love/ crime/ betrayal- all of these compose the "universe" of the opera.

After 4 appreciated performances on the stages of The "George Enescu" International Festival, Thursday, 31 october, the Radio Academic Choir, under the wand of its conductor, Ciprian Țuțu, presents "Famous Choirs from Opera" at Sala Radio.
The concert is an occasion to listen to the best known choral scores from Nabucco, Aida, La Traviata -Verdi, Tosca and Turandot - Puccini, Cneazul Igor - Borodin, Don Pasquale and Lucia di Lammemoor - Donizetti, Lohengrin - Wagner, Faust - Gounod etc.
The event takes place with the participation of the artists: Olga Murariu-Caia (soprano), Claudia Caia (mezzosoprano), Marius Olteanu (tenor), Elena Dincă-Velica (soprano), Emanuela Sălăjan (mezzosoprano), Mihnea Stănescu (tenor), Cristian Ruja (baritone), Ștefan Voicu (bass), Simona Săndulescu (organ), Liviu Ofițeru and Bogdan Popa (percussion), Carmen Săndulescu and Dan Stoenescu (piano) and of the Children's Choir Radio (conductor: Răzvan Rădos).
In 2020, the Radio Academic Choir celebrates 80 years since it has been offering beautiful choral scores on stage and on the Radio Romania programs.

Translated by Țîru Mălina Roxana, Universitatea din București
Facultatea de Limbi și Literaturi Străine, MTTLC Anul 1