> [Archived] Events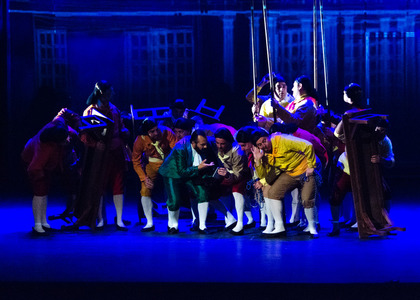 Tenor singer, Mihail Irimia, special guest on the stage of Romanian National Opera from Bucharest in "The Barber of Seville" show
Monday, 4 November 2019 , ora 9.43

The Bucharest National Opera presents on Sunday, November 3rd, at 6:30 p.m. the show "The Barber of Seville" by Gioacchino Rossini. The directing, the scenography, the scenic movement, the lighting design bear the signature of the Italian, Matteo Mazzoni.Video mapping was done by Fabio Massimo Iaquone and Luca Attilii, and the choreography by Andrea Gavriliu. Master Ciprian Teodorașcu will be at the conductor's desk.
The public can watch tenor singer Mihail Irimia performing the part of Count Almaviva as a guest of the country's most important lyrical scene. The director proposes a unique vision of the show, which combines the tradition of classical Italian opera with contemporary trends in the world of performing arts, an interesting parallel between eras and styles, between the environment in which the characters appeared and the contemporary world, as he himself states:"The production's message, which I would like to launch in Romania and throughout the world, is that lyrical theatre can be done differently. The lyrical theatre is not that closed world, as it is often in Italy. Our tradition has gone further and I want to prove, with this production, that it is possible to make an absolutely modern opera show, absolutely contemporary, through decorations and costumes, using an alphabet of gestures, a theatrical one. I would like the people in the audience to recognize themselves on the stage, as it was the case when Verdi wrote his works, so that the audience watching the show could see the vices and virtues of their own society. That's why the scene is represented by a big house, where the characters live, where our Bartolo watches the Champions League, as many men do, where dinner, lunch are being made, as our audience does, before and after the show, in everyone's daily life. In the opera, the music is the protagonist, more than the word, especially regarding Rossini, who puts a lot of emphasis in music. In the case of the "Barber in Seville", I directed according to the music."
The next representation of the show will be on Wednesday, November 6th, starting with 6:30 p.m.
Tickets can be found at http://tickets.operanb.ro/ and at the ticket office of the Bucharest National Opera (programme: Monday-Sunday from 10:00 a.m to 1:00 p.m. and from 2:00 p.m. to 7:00 p.m.)

Translated by Ioana Ghiță, Universitatea București,
Facultatea de Limbi și Literaturi Străine, MTTLC, anul 2