> [Archived] Events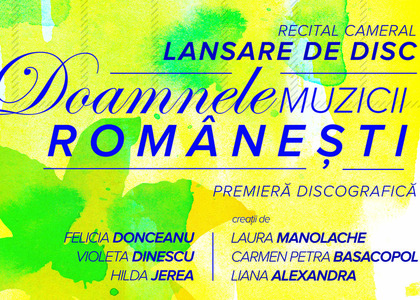 Album release – "Great women of Romanian music"- cultural project dedicated to the celebration of female presence in the Romanian culture and society
Monday, 4 November 2019 , ora 9.56

DIANA JIPA- violin
ȘTEFAN DONIGA- piano
Violinist DIANA JIPA and pianist ȘTEFAN DONIGA will present their most recent album, "Great women of Romania music", to the public at The Great Hall of Bucharest Cultural Centre-ARCUB, on November 9, 2019, at 6 PM. This album is part of an extensive project comprising research activity, recording, album production and release, national recitals tour, media campaigns, promotion and free distribution of 500 documentary and audio materials to schools.
All these endeavors are dedicated to the celebration of the importance and value of female presence in the Romanian culture and society, a presence which bestowed exceptional examples on our history through remarkable personalities- culture creators, artists, composers, scientists, unmatched sportswomen.
"We started this journey of building this project with the aim of bringing a series of extraordinary models to the public's attention (especially the young public, which we mostly direct our efforts to). In the present social context, the general female archetype is often featuring a set of qualities that are quite far from the one based on authenticity and cultural values. Therefore, evoking and revealing outstanding female personalities becomes an important educational and cultural endeavor and a very necessary one as well. All we intend by this cultural project is to contribute to the acknowledgement of the essential role that creative women had and still have in the development and progress of Romanian culture and our country's image throughout the world", stated the pianist Stefan Doniga, the initiator of this project.
The program of the album and of the tour recitals includes compositions from Felicia Donceanu, Hilda Jerea, Violeta Dinescu (an arrangement from Vlad-Răzvan Baciu), Carmen Petra Basacopol, Laura Manolache and Liana Alexandra.
The project is developed by HEART-CORE Association through a valuable partnership with Romania Music Radio, co-financed by National Cultural Fund Association and produced with the support of Bucharest City Hall and ARCUB.
Violinist Diana Jipa and pianist Ștefan Doniga are one of the most active and appreciated Romanian duos at the time, with a track record of over 80 concerts and recitals only in the past year, across 10 countries from 3 continents. The project "Great women of Romanian music" follows another extensive cultural project from the two artists, "Romania Universalis", which had the purpose of celebrating the Romanian Presidency of the Counsel of the European Union and which included 14 chamber recitals performed by the two artists in the first half of 2019, both inside and outside borders (Cuba, Mexico, China, Norway, Poland, United Kingdom). The present project represents the second album produced by the two musicians, after the one from one year ago dedicated to Dinu Lipatti's creation, and the seventh tour dedicated to the promotion of Romanian music.

Translated by Iuliana Popa, Universitatea București,
Facultatea de Limbi și Literaturi Străine, MTTLC, anul I