> [Archived] Events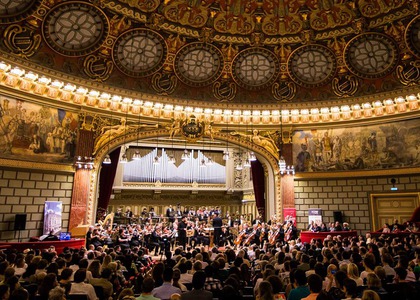 Thirty years since the fall of the Berlin Wall. Anniversary concert 'Music of the future - a bridge to Eastern Europe,' at the Romanian Athenaeum
Monday, 4 November 2019 , ora 10.27

On the occasion of the 30th anniversary of the fall of the Berlin Wall, the Altenburg Gera Philharmonic Orchestra will hold a series of concerts in Romania. In Timisoara, on the 29th of October and the 1st of November, there will be two concerts at the Banatul Philharmonic. The tour takes place under the patronage of the Ambassador of the Federal Republic of Germany in Romania, Cord Meier Klodt, and the Ambassador of Romania in the Federal Republic of Germany, Emil Hurezeanu.
The anniversary concert will take place in Bucharest on Sunday, the 3rd of November, 2019, at 7 p.m.Atthe Romanian Athenaeum, the concert will be led by conductor Laurent Wagner, general music manager. The soloist will be the cellist Mircea Marian. The program will include the Concert for cello and orchestra by Dan Dediu, for the first time ever on the scene, and Symphony No. 1 in C Minor, op.68 by Johannes Brahms. The concert is fully recorded by Radio Romania Music, and the first part can be listened to live on Radio Romania Music.
The Concert for cello and orchestra by Dan Dediu, one of the most important contemporary Romanian composers, is a work done especially for the "Music of the future - a bridge to Eastern Europe" tour. Dan Dediuvisualized this concert for the cello as a piece of repertoire - a playful, unpretentious and enjoyable work, whose musical parts tell a captivating story.
Usually, Dan Dediu uses very little of the traditional Romanian music, but there are times when he appeals to this musical treasure. Thus, the fourth part of the cello concert has become - as the composer himself claims - a combination of the six Romanian folk dances of BélaBartók and the film directed by Quentin Tarantino, Pulp Fiction. Some passages of the concert were born from the close collaboration with the cellist Mircea Marian.
"George Enescu"Philharmonic
Sunday, the 3rd of November, 7 pm, Romanian Athenaeum
Symphonic concert

The music of the future - a bridge to Eastern Europe
Anniversary concert on the occasion of the 30th anniversary of the fall of the Berlin Wall

Altenburg-Gera Philharmonic Orchestra
Conductor
Laurent Wagner
Soloist
Mircea Marian

Time schedule
*Dan Dediu
Concert for cello and orchestra
*Johannes Brahms
Symphony No. 1, in C Minor, op. 68

Translated by Mangalagiu Mădălina, Universitatea din București,
Facultatea de Limbi și Literaturi Străine, MTTLC Anul 1