> [Archived] Events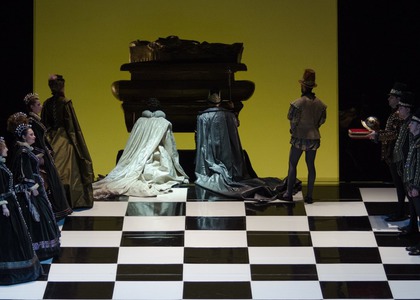 Ljubica Vranes and Dragoljub Bajic, guests of the show "Don Carlo" by Giuseppe Verdi on the scene of Bucharest National Opera
Wednesday, 6 November 2019 , ora 15.52

Bucharest National Opera presents, on Saturday 9 November 2019, starting at 18:30, "Don Carlo", opera in four acts by Giuseppe Verdi. Directing, set, costumes and lights, all carry Mario De Carlo's signature. Behind the conductor's stand will be the maestro TiberiuSoare. The Bucharest National Opera's Choir will be trained by Daniel Jinga.
Mario de Carlo regarding the show "Don Carlo" by Giuseppe Verdi which will take place on the first lyrical in the country: "The role of director (and being in charge of set, costumes and lights) in the case of <Don Carlos> is as if you were to jump off the cliff in Acapulco. Even if you know you will make it out alive - because others have done this before you - the risk of being hurt is big; and, above all, adrenaline reaches critical levels. Emotions so strong and so full of satisfactions are not easy to show, when faced with other works. In Don Carlo we are face to face with huge characters. It is true that this happens in many works by Verdi (think of Violetta, Rigoletto, Azucena and not only), yet here all are giants and all move together!"
With a libretto in French by Joseph Méry and Camille du Locle, after tragedy by Friedrich Schiller, the "Don Carlos" opera was requested of Verdi by the Paris Opera, where the premier then took place on 11 March 1897. The composer returned to his work, offering his contemporaries a version in Italian as well, which was performed at the Teatro alla Scala in Milan on 10 January 1884. Thus, the "Don Carlos" opera requested by the French will be called "Don Carlo" in Verdi's country, a version often presented in parallel with the original one in French.
The story of the piece has as starting point the political and social situation in 16th century Europe. The possible marriage of young Carlo, son of King Philip II, with Princess Elisabeth of Valois, daughter of King Henry II, has the purpose of bringing peace between France and Spain, who were at war at that time. Despite expectations, the two fall in love, but the King of Spain is against the wishes of the two, marrying the Princess himself. History, politics, religion and love intertwine ingeniously into a subject which contains a lot of fiction, historical accuracy is relative for the sake of the story.
Tickets can be found on http://tickets.operanb.ro and at the Bucharest National Opera ticket office (opening hours Monday-Friday 10:00 - 13:00 and 14:00 - 19:00).

Translated by Andrei Iulia-Teodora, Universitatea București,
Facultatea de Limbi și Literaturi Strãine, MTTLC, anul I