> [Archived] Events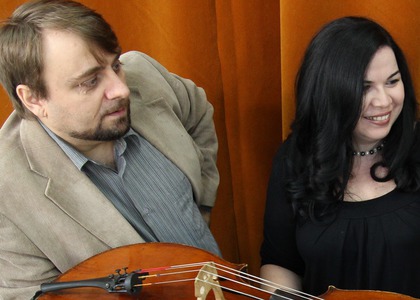 "European Travels", turning Brăila and Galați into "Musical Citadels"
Monday, 11 November 2019 , ora 9.42

On Saturday, November 16th and Sunday, November 17th, 2019, there will be some remarkable musical evenings will be held at the Lyra Palace in Brăila and, respectively, the Bishop's Palace in Galați.
Under the generic title "European Travels", the Musica Viva Ensemble, formed by pianist Andreea Butnaru and cellist Florin Mitrea, is inviting you to a musical periplus through: France, Russia, Hungary, Germany, Austria and Romania.
Both recitals begin at 6 PM.
You can listen to works by: Jules Massenet, George Stephanescu, Serghey Rachmaninoff, Constantin Dimitrescu, Felix Mendelssohn, Paul Constantinescu, Ludwig van Beethoven, Doru Popovici and Bela Bartok.
The Musica Viva Ensemble, founded in 2005 by pianist Andreea Butnaru and cellist Florin Mitrea, has been conceived and created as a dynamic manifestation of classical chamber music. They have had several successful projects so far: Brahmsiana (2008), "Sound, Matter, Word" (2010), "Beethoven - an integral of piano trios" (2011-2012) and "Musical Dialogues" (2013-2015). In 2013, Musica Viva was one of the ensembles seleced by the BBC Radio Classic to represent the National Day of Romania, within the transmissions of the European Radio Union. As musicians that have completed their studies in Berlin, Andreea Butnaru is a professor at the National University of Music in Bucharest, and Florin Mitrea is a soloist, instrumentalist and party leader of the National Radio Orchestra. Not long ago, the Musical Viva Ensemble has created a new compact disc called "A Journey to the 20th Century" - sonatas for cello and piano, by Martinu, Shostakovich and Poulenc.
The recital is included in the "Musical Citadels" Tour and all the manifestations within the itinerant event are charitable. By making a donation, the audience can obtain one of the wonderful, unique, handmade products offered by the Surprise Box Bucharesthttps://www.facebook.com/SurpriseBoxBucuresti/ . The collected funds go to the "Future of Art" campaign, which aims to support valuable young musicians.

Translated by Manea Ana Eleonora, Universitatea București,
Facultatea de Limbi și Literaturi Străine, MTTLC, anul I