> [Archived] Events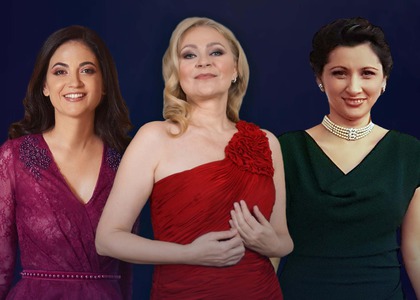 "The Three Divas " will be performing on a stage that has a lot of history in Romania. Ruxandra Donose, Teodora Gheorghiu and Ileana Tonca will be performing in a concert that will be held atThe Cultural Palace in Arad
Thursday, 21 November 2019 , ora 10.48

The Gala "The Three Divas" will return on Romanian scenes, this time in a premiere because the concert will take place in the magnificent ambiance that the Cultural Palace in Arad has to offer. In The Cultural Palace of Arad you will find the most western concert hall of Romania.
The mezzo-soprano Ruxandra Donose and the sopranos Teodora Gheorghiu and Ileana Tonca will appear together for the first time in this formula at the Cultural Palace of Arad on the evening of November 29, together with the Symphony Orchestra of the Arad Philharmonic conducted by Adrian Morar.
The story of the three divas first appeared in 2011, following the model of the Pavarotti-Domingo-Carreras triad, which has become a successful brand of tenors from all over the world who have used this formula.
The need to find a rolemodel to follow makes us want to find real models.Unfortunately, we can not find models on television or in the hierarchies of the Internet.
The peaks of the Romanian music school have always gone out in the world, but at the moment of artistic maturity they wanted to come back to share their art with the public at home and not only in Bucharest. Few are the ones who manage to return - and even more so to other cultural cities of the country - and when this happens, the joy is even greater.
The extraordinary concert at the Cultural Palace in Arad, on the evening of November 29, a gala concert entitled"The Three Dives" will bring on stage three remarkable representatives of the lyric art born in Romania, who have shone and continue to shine on the big stage of to the world, such as the Vienna Opera, Covent Garden, Deutsche Oper Berlin, the Paris Opera, as well as large venues in Asia, the United States, and beyond. They will be performing famous arias, duets and thirds from the international repertoire (F. Lehar, G Bizet, P. Mascagni, CM von Weber, F. Cilea, WA Mozart, Saint Saens, G. Puccini, V. Bellini, R..Leoncavallo, L. Delibes, J. Strauss), which will alternate with representative orchestral moments from the Romanian repertoire (G. Dendrino, C. Trăilescu. G. Dinicu, F. Barbu), performed by the Arad Symphony Orchestra of the Arad conducted by Adrian Morar, precisely to mark the closeness of the National Day of Romania and the fact that, symbolically , date of 1 decem Brie 1918, represents the beginning of the modernization of Romania as part of Europe.
An attractive gala for the general public and, at the same time, a high artistic gala, "The three divas" will be a memorable evening for all the people present in the hall, and an unique meeting of three great artists who were born in Romania.
Tickets can be purchased online at www.bilete.ro and at the cash register of the State Philharmonic in Arad.

Translated by Gabriela Florea, Universitatea București,
Facultatea de Limbi și Literaturi Străine, MTTLC, anul II