> [Archived] Events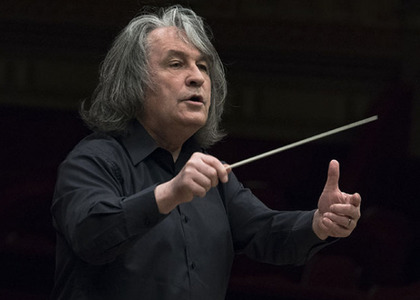 Three musicians, Horia Andreescu, Daniel Ciobanu and Jacob Reuven propose an "exotic approach" to Mendelssohn's music
Thursday, 21 November 2019 , ora 11.04

On Thursday and Friday, November 21st and 22nd, 2019, from 7 PM, in the Grand Hall of the Romanian Athenaeum, the "George Enescu" Symphonic Orchestra, conducted by the maestro Horia Andreescu, will host the Concert in D minor for the mandolin, piano and orchestra by Felix Mendelssohn and Symphony no. 1 in D major by Gustav Mahler. The soloists will beJacob Reuven (mandolin) and Daniel Ciobanu (piano).
"We have two extraordinary composers in our program, Mendelssohn and Mahler, important for the innovative spirit they have brought, for their strength to contemplate and describe nature. The two musicians greatly influenced their era. We also have two outstanding soloists as guests, piano player Daniel Ciobanu and mandolin player Jacob Reuven. For Mendelssohn's concert we have an innovation, introducing the mandolin instead of the violin for the first time", declared maestro Horia Andreescu. "Mahler met Enescu and conducted, in the first audition, George Enescu's Suite No. 1 at the New York Philharmonic, afterwards playing it during a United States tournament. Mahler, the musician, composer and conductor, was impressed by Prelude in Unison, that opens Suite No. 1 with only one melodic line, an Enescu specific. Here's how Enescu's spirit and music intertwine with what we are going to listen to this Thursday and Friday at the Athenaeum", the conductor pointed out.
"We will hold two extraordinary concerts, with an exotic approach on the double concert for the violin and piano by Mendelssohn, where the part of the violin will be replaced and phonetically spiced up by a mandolin, along Jacob Reuven. I will return more often to the Romanian stages, where I hope I will be able to bring most of my nonconformist ideas. I hope these unique approaches will manage to stir the young public's interest into coming to the concert halls in the largest number possible" pianist Daniel Ciobanu declared.
The "George Enescu" Symphonic Orchestra
Thursday and Friday November 21st and 22nd, 7 PM, Romanian Athenaeum
Conductor
Horia Andreescu
Soloists
Jacob Reuven
Daniel Ciobanu
Program
-Felix Mendelssohn
Concert in D minor for mandolin, piano and orchestra
-Gustav Mahler
Symphony No.1 in D major

Translated by Drangoi Ioana - Alexandra, MTTLC- Anul I
Facultatea de Limbi șiLiteraturi Străine Universitatea din București