> [Archived] Events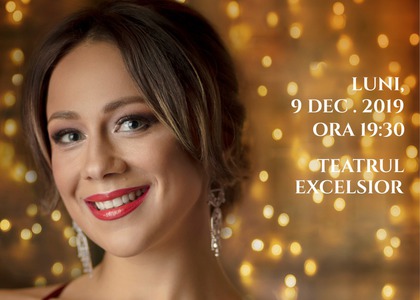 Viorica Pintilie - the third edition of the concert "I'll be home for Christmas"
Monday, 2 December 2019 , ora 15.14

The third edition of the Christmas concert performed by Viorica Pintilie and her band is an occasion to meet again the jazz loving audience, when this family celebration is approaching. It will take place on Monday, 9th of December 2019 at 7:30 p.m. at Excelsior Theatre, using intimate decorations which suggest a living room. Viorica Pintilie's concert will have standard jazz songs, the well loved American songs "It's beginning to look a lot like Christmas", "Santa Claus is coming to town", "Santa baby", but also Romanian carols "Colo sus pe lângă lună" ("Up there near the moon") or "Creștini, Crăciunul a sosit" ("Christians, Christmas has come").
And because Viorica Pintilie also included a duet in the other past two editions of the Christmas concert (the first one with Virgil Ianțu and the second one with Adrian Nour) for this year's duet she invited her sister, Rodica. It will be a very touching moment both for the two sisters and the audience.
"I am extremely glad that this Christmas concert reached its third edition and that I made a tradition out of meeting my audience in December before this very important celebration. Christmas is always an occasion for rest and time spent with our family and friends. And because a small family has formed around the jazz concerts I have given through the years, it's only natural to meet my listeners before Christmas. I promise it will be a memorable night!" Viorica Pintilie said.
On stage together with Viorica there will be the instrumentalists: Johnny Bica - piano, Adrian Flautistu - contrabass, Iulian Nicolau - drums, Ciprian Pop - guitar, Paolo Profeti - saxophone and flute, Mihail Grigore - cello, Miruna-Elena Vidican - harp and Sebastian Burneci (trumpet).
"For me Christmas is one thing: tranquility next to your family. As easy as it is to describe, it's hard to recreate this atmosphere. Last year it was Viorica who made me believe that there, in the concert hall, my parents were seating in the back, because I felt as tranquil as I felt at home, in Moldova. I thank her for inspiring this feeling in me!" Raisa Bercu declared about Viorica's Christmas concert.

Translated by Alina-Nicoleta Duminică, Universitatea București,
Facultatea de Limbi și Literaturi Străine MTTLC, anul II