> [Archived] Events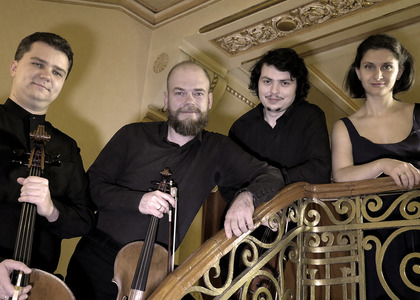 The recital "Drama per musica" with the Arcadia Quartet at the Tinerimea Română Palace
Monday, 9 December 2019 , ora 9.33

The National Center of Arts "Tinerimea Română" invites the audience to the "Tinerimea Română" Palace on Saturday, December 7, 2019, 5 p.m. for the recital of the Arcadia Quartet, whose members are Ana Török - violin, RăsvanDumitru - violin, Traian Boală - viola and Zsolt Török - violoncello.The recital is called "Drama per musica" and it consists of W.A.Mozart - The Adagio and Fugue in C minor, K. 546, B. Bartók - The String Quartet No. 6, Sz. 114,andJ. Brahms - String Quartet No. 2 in A minor.
Being the most well-known quartet from the young generation, Arcadia is a constant presence at the most important chamber music events in Europe, not only for the its valuable members, but also for the captivating manner in which they give life to the performance, which is always reaching for the highest peaks of artistic virtue.
"Drama per musica" will lead the audience through three stories from different times, with a sound shaped by the style and virtue of Arcadia quartet.
Being part of the international scenery of chamber music, Arcadia Quartet was founded in 2006, while its members were still students of "Gheorghe Dima" Music Academy in Cluj. The quartet has performed at Spring Festival (Budapest), George Enescu Festival (Heidelberg), Cité International des Arts (Paris), AlteOper (Frankfurt), Pollack Hall (Montreal), Concertgebouw (Amsterdam), Wigmore Hall, Q'arto Mondi Festival (Poland), Salle Gaveau (Paris), Tel-Aviv, Mecklenburg Vorpommern Festival, Kammermusiktage Mettlach, Zeist Music Days Festival (Netherlands), in Portugal, United Kingdom and China. Arcadia Quartet is the winner of several chamber music competitions, such asInternational Chamber Music Competition (Hamburg, 2009), Almere International Chamber Music Competition (2011), Wigmore Hall London International String Quartet Competition (2012), Osaka International Chamber Music Competition (2014). Their debut album was launched in 2009 with a Mendelssohn - Brahms disc issued by Fontenay Classics International (Hamburg). For the second disc in 2013, they recorded the Quartets no. 1 and no. 2 from Loess Janacek at Orchid Classics (Londra). In the 2014-2015 session, the Arcadia Quartet organised a tour of 12 concerts in Japan and also performed in Europe at Wigmore Hall, Vienna Musikverein, Aldeburgh Festival,GrafeneggFestival, SilverLyre Festival (Sankt Petersburg), Berlin Konzerthaus, Norwich Festival, Madrid and made their radio broadcasting debut fromWigmore Hall on BBC Radio3.

Translated by Iuliana Popa, Universitatea București,
Facultatea de Limbi și Literaturi Străine MTTLC, anul I