> [Archived] Events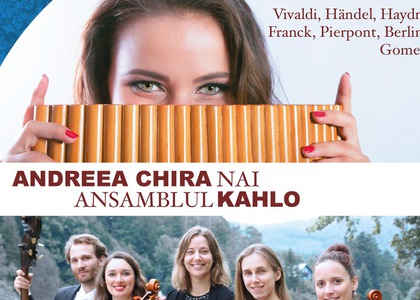 Christmas concert - `Winter` - pan flutist Andrea Chira and Kahlo Ensemble, at Radio Hall
Monday, 9 December 2019 , ora 10.17

The purity of the pan flute meets the refinement of chamber music.The Romanian pan flutist Andreea Chira and the Austrian Kahlo strings Ensemble is performing famous Christmas compositions during the `Winter` concert which will take place on Wednesday, December 11, 7 p.m. at Radio Hall (General Berthelot Street, no. 60-64). The event is organized by the Austrian Embassy in Bucharest, The Austrian Cultural Forum Bucharest and Romanian Music Radio, with the support of Radio Orchestras and Choirs.
Well-known compositions from the baroque, Austrian and Romanian repertory were re-transcribed especially for the pan flute with the occasion of this concert. The audience will have the chance to listen to compositions from Georg F. Händel, Antonio Vivaldi, Johann S. Bach, Joseph Haydn, Jules Massenet, Antonin Dvoűák and many others, through an original performance. The musicians have also prepared a special moment, namely the `Small suite of carols from Transylvania` from Constantin Arvinte, a less known creation, and a new version of the `Hora Staccato` from Grigoraș Dinicu.
Romanian Music Radio will broadcast fragments of this concert on Sunday, December 22, starting from 1 p.m.
Andreea Chira is from Bucharest and she learned to play the pan flute at the `Dinu Lipatti` High school where, as a student, she won several competitions and took part in numerous international tours (South Korea, France, Portugal, …). In 2012, she settled in Vienna and began performing for Live Music Now, the organization of Lord Yehudi Menuhin. During this time, she developed her repertory towards classical music. Andreea Chira first performed at Wiener Konzerthaus (her performance being very well received by the public) during the gala concert celebrating the 20th anniversary of Live Music Now Austria, on October 2017. Right after, she received an invitation from the late Claudio Scimone to perform alongside I Solisti Venetiat the Christmas Concert in Padova. This collaboration between Andreea Chira and this orchestra goes on, given its success and the admiration between the parts. Moreover, Andreea Chira frequently performs alongside chamber orchestras from Poland, Czech Republic and Romania. In the beginning of July 2019, she held a concert at Wuxi, China, and in September she had a tour in South Korea.
Kahlo string Ensemble was founded in 2013. Its name is inspired by Frida Kahlo, the great Mexican painter, who faced the numerous difficulties life had thrown at her with an outstanding force, but also combined traditional elements with contemporary techniques and motifs when it came to art. The first of the remarkable successes of the ensemble took place in 2016, with the release of the album featuring Bruno Walter`s piano quintet and the related concert from the Wiener Musikverein.The members of the ensemble are also part of other prestigious orchestras, such as the one of Vienna State Opera, Tonkünstler-Orchester from Lower Austria, Vereinigte Bühnen Wien, or the Webern Kammerphilharmonie.

Translated by Iuliana Popa, Facultatea de Limbi și Literaturi Străine,
Universitatea din București MTTLC, anul I