> [Archived] Events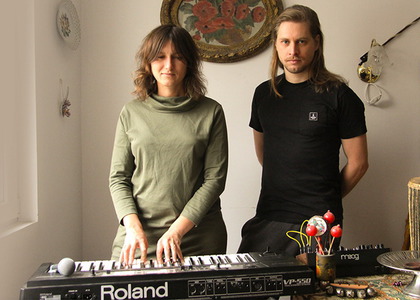 A new premiere at EUROPALIA ROMÂNIA: Maria Balabaș and Alexander Arpeggio reissue electronic music of the 80s
Monday, 9 December 2019 , ora 10.40

Maria Balabaș and Alexander Arpeggio, a combination between a Romanian eclectic singer and a Berlin producer, will take place on December 5 and 6, at Arkaoda in Berlin and at the Brass Cultural Center in Brussels.
Alexander Arpeggio is a DJ and founder of the brands EINE WELT and MOND MUSIK, which focuses on reissuing niche electronic music, launched in the late 1970s and early 1980s. Inspired by the Bucharest and Berlin neighborhoods, by the great boulevards of post-communism, the DJ and producer Alexander Arpeggio participated in a residency with the sound artist and journalist in Romania, Maria Balabaș. Through her broadcast from the national station Radio Romania Cultural, Maria Balabaș, musicologist and musician, is one of the voices in Romania that promotes diverse contemporary music throughout the country. Together, they created an album of powerful experimental music influences from the 1980s.
"I started working with Alexander Arpeggio on the idea of Christoph Hammes, musical curator of EUROPALIA. He felt that we fit in as ideas and personalities. We met in Berlin last year, we talked and we both agreed to do this project together, then followed the residence in Bucharest, where we worked in a studio organized in my mother's living room. We understood each other very well and the meeting was very productive. the idea of the album and it was something that surprised us both. Very important to me was Alexander's decision to sing in Romanian. I was trying to formulate phrases and lyrics in English, thinking it was an international project; he stopped me and he said "I want to hear you in Romanian". And so, the album, although with an international sound, has lyrics only in Romanian ", said Maria Balabaș.
Within the EUROPEAN ROMANIA, the two artists will present the result of the two residences (Bucharest and Berlin), through two live concerts at the Arkaoda in Berlin (05.12.2019) and the Brass center in Brussels (06.12.2019).

Translated by Oprea Ana Maria Adriana, Facultatea de Limbi și Literaturi Străine,
Universitatea din București MTTLC, an I